Water is refreshing in the heat, right? In parts of Florida this past week, not so much
July 30, 2023  -KEY BISCAYNE, Fla. (AP) — In the sweltering summer heat, nobody tries to cool off by jumping into a hot tub. In parts of Florida, however, that's what the ocean has felt like.
Earlier this week, sea surface temperatures reached as high as 101.2 degrees Fahrenheit (38.4 degrees Celsius) around the state's southern tip in Manatee Bay, according to the National Weather Service — although scientists said the context for Monday's reading is complicated.
"It was like there was no difference between the humidity of the air and going into the water," said Chelsea Ward of Fort Myers, Florida.
Triple-digit ocean temperatures are stunning even in Florida, where residents are used to the heat and where many retirees find refuge from cold, northern winters. Several other nearby spots reached the mid-90s (about 35 Celsius). A storm finally came through on Wednesday, helping water temperatures drop back down into the more temperate 80s (about 29 Celsius).
Humans naturally look to water for a chance to refresh. Every summer, millions grab their swimsuits for a day on the beach and a chance to cool off in the water — a break from everyday work and worry. Pools offer the same relief and a place for friends to gather. But when water temperatures get too high, some of the appeal is lost.
Ward, 47, doesn't keep her beach bag in her car anymore even though she lives minutes away from the beach in Fort Myers. Lately, the water is just too hot. On Sunday, when her friend asked if she wanted to go to the beach, the two decided against it after discovering the water temperature was around 90 degrees (32 degrees Celsius).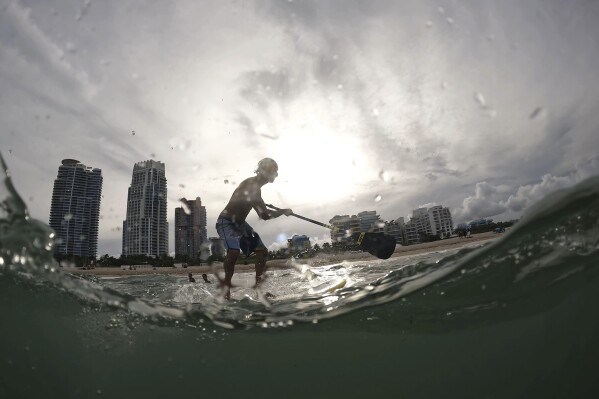 When it's hot, the body cools down by sweating, which evaporates and releases heat. Dipping into the ocean is typically so refreshing because heat efficiently transfers from your body into the water. But as water temperatures climb, that effect diminishes and you lose less heat less quickly, according to Michael Mullins, a Washington University toxicologist and emergency medicine physician at Barnes-Jewish Hospital in St. Louis.
A hot tub — or a stretch of ocean water hotter than body temperature — reverses the transfer of heat into your body. That's not a pleasant experience on a sizzling, humid, Florida day.