URSM unveils some candidates at capacity-filled event Sunday
May 8, 2023  -The Daily Herald News COLE BAY–Surgeon Dr. Luc Mercelina was elected leader of the Unified Resilience St. Maarten Movement (URSM) party and Chris Wever was elected the party's deputy leader during a capacity-filled hall at Tropicana Ballroom on Sunday.
The party also elected its board during the event and unveiled some of its candidates, to roars of applause from the large audience, which board member Stuart Johnson estimated was around 400 persons.
Candidates were unveiled during the live performance of the song "Party Start".
Those unveiled include former Deputy Minister Plenipotentiary Michael Somersall; Joseph Peterson; former People's Progressive Alliance (PPA) leader and former Chairperson of Parliament Gracita Arrindell; law enforcement officer Wendell Thode; attorney Sjamira Roseburg; Herbert Martina; Rachel Brug; Julian Rollocks Jr.; Veronica Webster-Jansen; law enforcement officer and NAPB President Rogerrel Mauricia; taxi driver Glensley Emer; Coast Guard staffer Paco Isenia; Point Blanche prison staffer Delano Hutchinson and Haitian native Fabio Doralice.
Mercelina said there were additional candidates to be unveiled.
The members of the party's board were also elected during the event. Brenda Brooks was elected president of the board, Colomarino Hennis treasurer, Veronica Jansen secretary, and Josianne Fleming-Artsen and Stuart Johnson board members.
Wever, who also launched his party song at the event, said it is clear to him that people are asking for a fundamental change and a mindset change.
"A change where we have our elected officials work in the best interest of all the people and not a select few for their own benefits. A change where accountability is real and working for the people is not just a nice catch-phrase during election time. A change where we take the cries of our people seriously. The URSM is a movement which was established based on bringing a real fundamental change for the people," said Wever.
"We are a movement of inclusion, who will work in the benefit of all persons of this country. Once elected we will work for all regardless of your political colour. The URSM believes in giving our people the tools needed to better themselves. We strongly believe that teaching our people to fish instead of providing them the fish will result in a stronger St. Maarten for all.
"The URSM is a movement focused on being solution-based as well. It's easy to point out all that is not going well in a country. If we point out the issues we will follow up with realistic and tangible solutions."
He said the party is busy giving all of its candidates the tools needed to represent the people to the best of their ability.
Brooks also addressed the audience with a speech entitled "Walk down another street".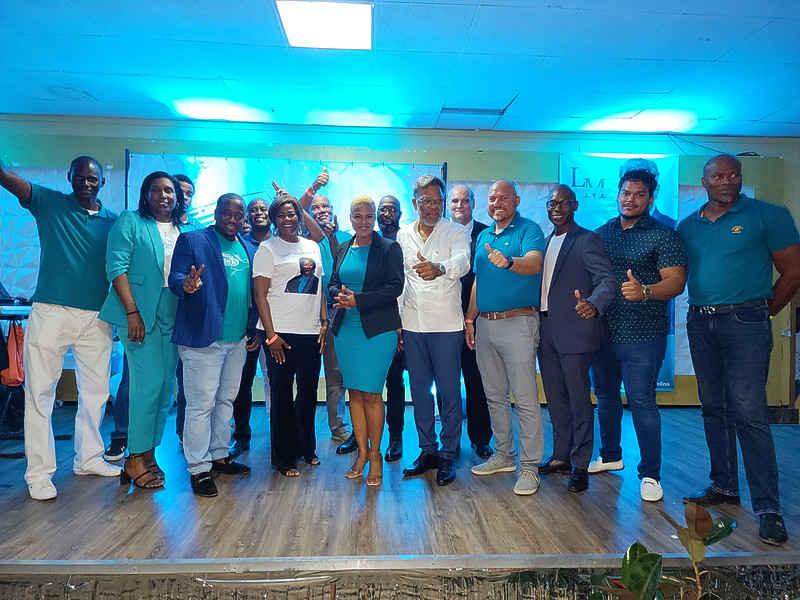 URSM leader Dr. Luc Mercelina and deputy leader Chris Wever with some of the candidates that were unveiled on Sunday.