The sun goes down on Elton John's UK touring career with record-breaking Glastonbury set
June 26, 2023  –The sun set on one of the greatest careers in British music history, as Elton John played the last UK show of his farewell tour at Glastonbury.
The 76-year-old legend treated fans to a masterclass in song and stage craft, delivering a two-hour set in which every song was a greatest hit.
He was watched by a vast crowd, estimated to be over 120,000 people.
Meanwhile, a record 7.3 million people tuned in to watch live on BBC One, according to overnight ratings.
That was the biggest ever overnight audience for a Glastonbury set, the BBC said. In comparison, last year Diana Ross was the most-watched star with 3.1 million and Paul McCartney's headline set was seen by 2.7 million.
Elton told all those watching: "I'm so happy to be here. I won't ever forget this."
Glastonbury's final day – as it happened
15 mad and memorable moments from the weekend
Glastonbury clean-up and getaway under way
The singer burst onto the stage shortly after 21:00 BST with Pinball Wizard – as promised, a song he hadn't played in over a decade – following it up with a raucous romp through The Bitch Is Back.
Pausing to catch his breath, he drank in the crowd and stretched out his arms in gratitude. "I never thought I'd play Glastonbury – and here I am," he said.
"It's a very special and emotional night for me as it may be my last show in England, in Great Britain."
"I'd better play well and I'd better entertain you because you've been standing there so long," he added,
In the audience next to me, a fan hollered their encouragement: "Go on, you old sausage."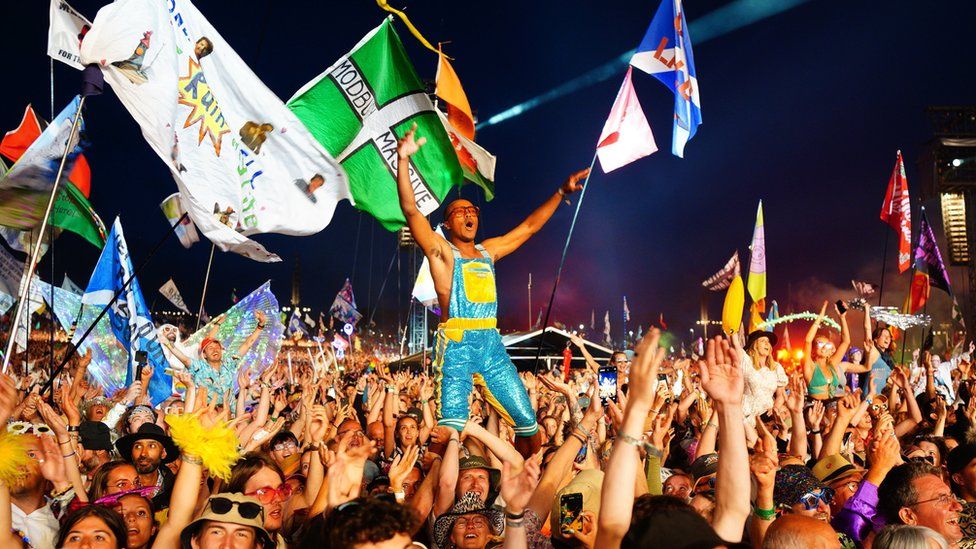 The show came toward the end of Elton's Farewell Yellow Brick Road tour – now officially the highest-grossing tour of all time, with box office receipts of $887m (£697m).
After Glastonbury, there are just seven dates left, with the final show in Stockholm on 8 July.
It puts to rest a touring career that has seen Elton go from a young upstart rocking the Troubador in Los Angeles, to a beloved fixture of the rock establishment.
Over the years, he's gained a reputation for flamboyant excess – feather boas, platform heels, elaborate headdresses and pianos that burst into flames.
"I don't move around the stage," he reasoned. "I've got to attract attention somehow!"
But by Elton's standards, Glastonbury was an understated show that focused purely on his love of music.
Cat Stevens soothes an exhausted Glastonbury
Foo Fighters make 'surprise' return to Glastonbury
Guns N' Roses wow Glastonbury but Lana is cut short
He stayed in the same gold lamé suit all evening, giving off the air of a man who's at his happiest when he's sitting behind a piano, letting rip.
There were some beautiful, extended flourishes on Your Song and I Guess Why They Call It The Blues. On I'm Still Standing, he pounded the keys so hard, they threatened to fall off.
It has to be said, however, that his voice isn't what it was. The clipped vowels and marmalade diction have a whiff of Vegas lounge singer – but here at Worthy Farm, his singing was strangely effective, cutting through the air with a clarity that other headliners failed to match this weekend.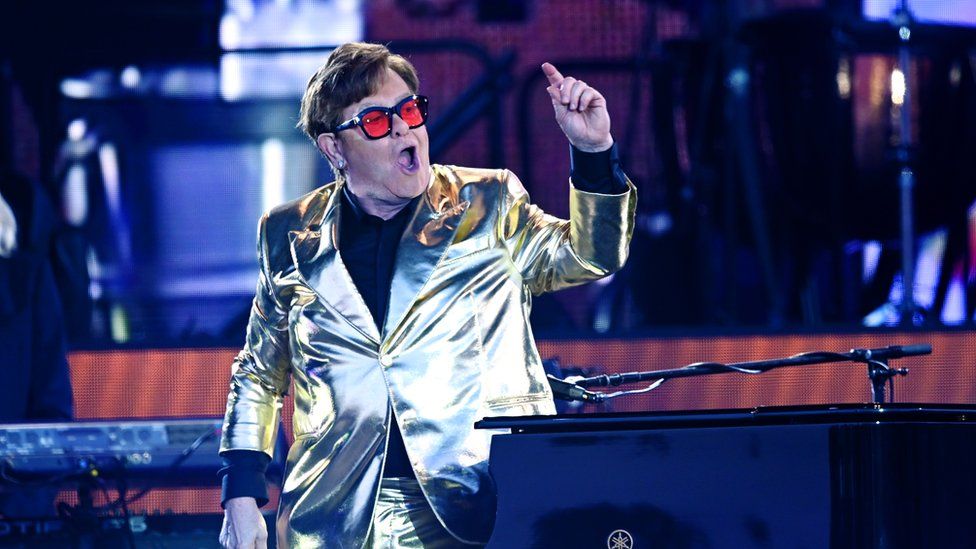 In the end, however, Elton went against the grain, championing a new generation of musicians over pop stars who could easily headline Glastonbury themselves.
Arctic Monkeys at Glastonbury: A tale of two halves
The secrets of Loyle Carner's Glastonbury set
He invited Jacob Lusk of US soul group Gabriels to sing Are You Ready For Love; while pop newcomer Rina Sawayama took Kiki Dee's place on a rousing Don't Go Breaking My Heart.
Nashville's Stephen Sanchez even got to sing a song of his own, Until I Found You.
"I heard it last year on the radio," Elton enthused, "and I couldn't believe a 19, 20 year old could write a song like this".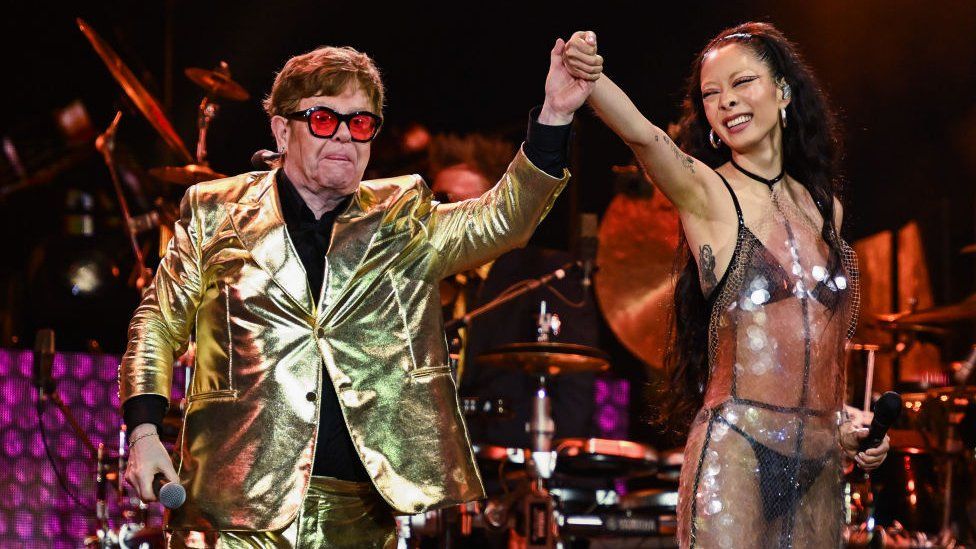 The sole exception was The Killers' Brandon Flowers, who took to the stage in a hot pink suit for a handsome duet of Tiny Dancer.
Their performance proved so moving that TV cameras picked out a proposal in the audience.
Overall, however, the lack of star power caused a ripple of disappointment. "Who's that?" grumbled one fan as Sawayama took the stage.
But there was something admirable about it, too. Elton stayed true to who he was – a music obsessive, whose hunger for rock and pop has fuelled and sustained his career.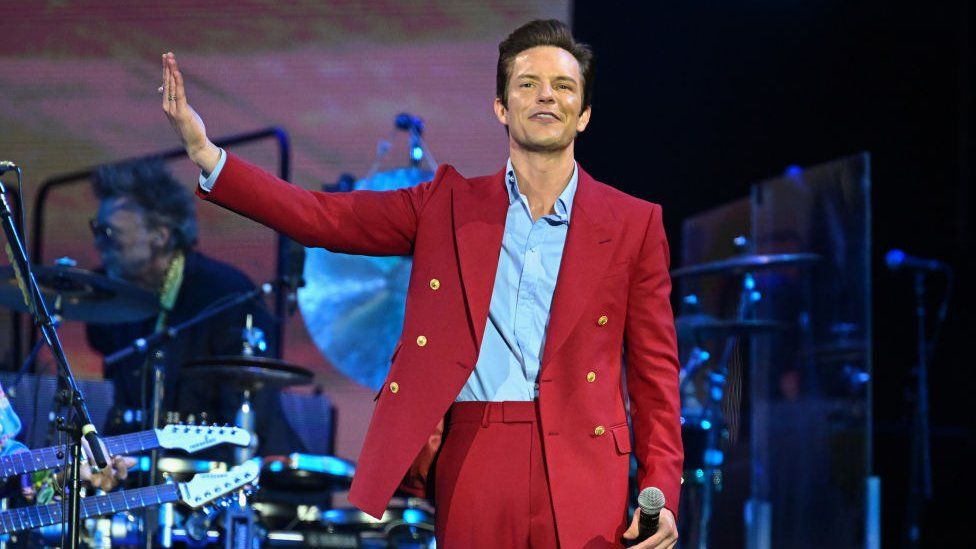 After two hours, the set built to an emotional climax.
Elton dedicated Don't Let The Sun Go Down On Me to George Michael, "one of Britain's most fantastic singers, songwriters [and] artists".
"He was my friend, an inspiration, and today would have been his 60th birthday – I want to dedicate this song to his memory, and all the music he left us with which is so gorgeous," he added.
Then he drew the curtain on his UK touring career with an extended, elegiac version of Rocket Man, as fireworks echoed around the site.
As he took a final bow with his band, the closing lyric, "I think it's gonna be a long, long time," took on a new poignancy.
"It's been an incredible journey and I've had the best, best time," said the star, with a lump in his throat.
If this really was his last ever UK show, it was the perfect way to bow out.
Pinball Wizard
The Bitch Is Back
Bennie & The Jets
Daniel
Goodbye Yellow Brick Road
I Guess That's Why They Call It The Blues
Philadelphia Freedom
Are You Ready For Love? (With Jacob Lusk and the London Community Gospel Choir)
Sad Songs Say So Much
Someone Saved My Life Tonight
Until I Found You (with Stephen Sanchez)
Your Song
Candle In The Wind
Tiny Dancer (with Brandon Flowers)
Don't Got Breaking My Heart (with Rina Sawyama)
Crocodile Rock
Saturday Night's Alright For Fighting
I'm Still Standing
Cold Heart
Don't Let The Sun Go Down On Me
Rocket Man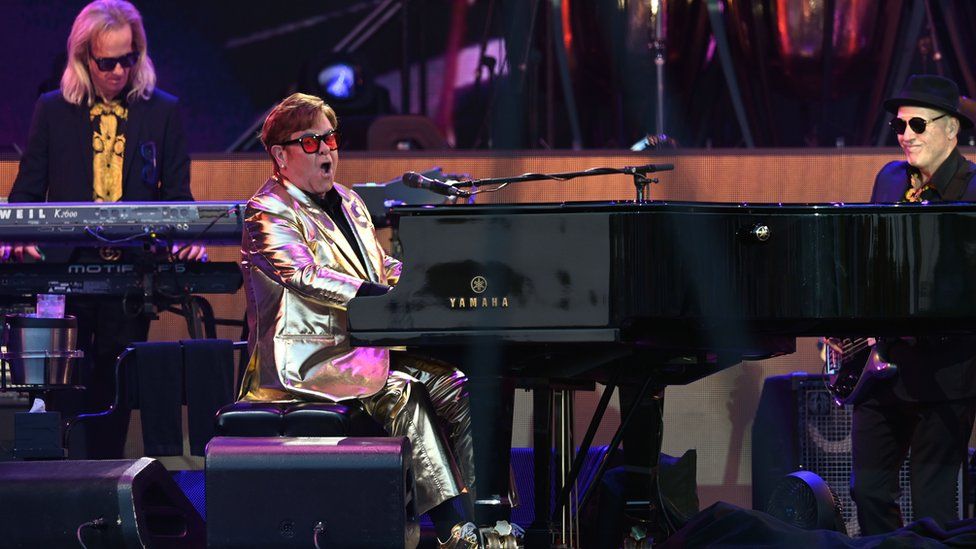 The star's set was watched by so many fans that Glastonbury issued a "standing only" rule, asking people to fold up their chairs and pack away picnic blankets.
Also watching were Paul McCartney, actors Matt Smith and Kate Hudson, Jamie Oliver, and Taron Egerton, who played Elton in the hit biopic Rocketman, as well the film's director Dexter Fletcher.
"That was incredible," Fletcher told the BBC after the show.
"You can't really put it into words how emotional it was, and how engaged he was, and the connection with the crowd. That's what it was all about."
The performance drew the 2023 Glastonbury festival to a close, after high-profile sets from Arctic Monkeys, Guns N' Roses, Lana Del Rey, WizKid, Lizzo, Blondie and Cat Stevens.
Organiser Emily Eavis has confirmed the event will return next year, with two female headliners already booked.