The 10 most kid-friendly places to see in Boston
June 24, 2023  -Welcome to Boston, Massachusetts: hotbed of history, artistic capital, higher education hub and – as it turns out – a fabulous destination for children. It's no surprise that this centre of culture and learning knows how to entertain and educate its youngest visitors. A trio of top-notch museums sets the standard for family outings in Boston, but there are countless other attractions offering rewarding – and sometimes surprising – experiences for kids.
Kelley Heyworth, a Boston-area resident and mother of three, has been writing about health and parenting for nearly two decades, including as the New England editor of the family activity website Mommy Poppins. Here, she shares her family's 10 favourite destinations in and around Boston, from museums to historic sites to outdoor adventures.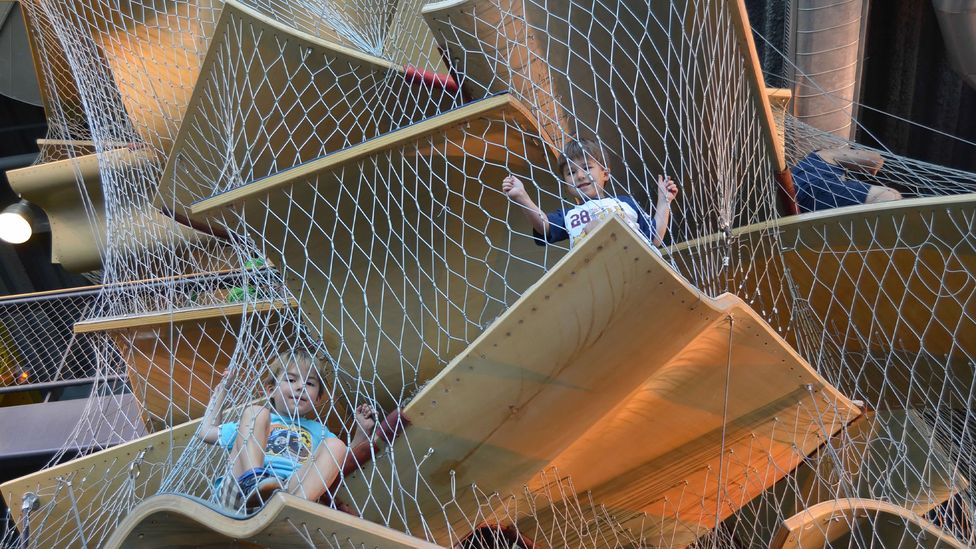 The Boston Children's Museum is filled with three floors of interactive fun (Credit: Mara Vorhees)
1. "The big three"
Heyworth says you can't talk about child-friendly Boston without mentioning "the big three", that is, the New England Aquarium, the Museum of Science and the Boston Children's Museum. These are the most popular family attractions in Boston – and for good reason.
HEYWORTH'S TIPS FOR VISITING BOSTON WITH KIDS:
Kids under 12 ride public transportation for free. Take advantage, as driving and parking in Boston can be difficult.
Buses and trains are accessible to strollers, although some subway platforms may not have elevator access.
Buy tickets in advance for (most) museums and tours.
Take advantage of free green spaces and play areas at the Boston Common, Charles River Esplanade and Rose Kennedy Greenway.
At the Museum of Science, Heyworth recommends the Theater of Electricity, a massive Van der Graaf generator (the world's largest) that simulates a thunder and lightning storm, demonstrating how and why it happens and how to stay safe. The show is loud so it might be too much for the littlest ears, but older kids will love it. Elsewhere, The Discovery Center is a favourite for younger children. In fact, it's restricted to kids aged eight and under, with a limited number admitted. Exhibits focus on hands-on activities that allow for discovery through play.
At the New England Aquarium, Heyworth notes that the fun starts before you enter, as two families of wonderfully playful and personable harbor seals live in a large glass enclosure right by the front doors. Have your camera ready! The aquarium's centrepiece is the enormous cylindrical saltwater tank that allows kids to spy on the creatures of the coral reef at every depth. But Heyworth says the real highlight is the Marine Mammal Center, where sea lions show off their intelligence and athleticism during scheduled demonstrations. These shows are worth the wait – and an ideal opportunity for kids (and parents) to sit and take a breather.
The Boston Children's Museum is three floors of interactive fun, especially for kids under the age of 10, with the three-storey climbing structure and the bubbles exhibit especially hard for children to resist. If the museum is crowded, escape to the upper floors to conduct science experiments, build forts or create something amazing in the Art Lab.
Website: www.mos.org
Address: 1 Science Park Way, Boston
Phone: 1-617-723-2500
Instagram: @museumofscience
Website: www.neaq.org
Address: 1 Central Wharf, Boston
Phone: 1-617-973-5200
Instagram: @newenglandaquarium
Website: www.bostonchildrensmuseum.org
Address: 308 Congress St, Boston
Phone: 1-617-426-6500
Instagram: @bostonchildrensmuseum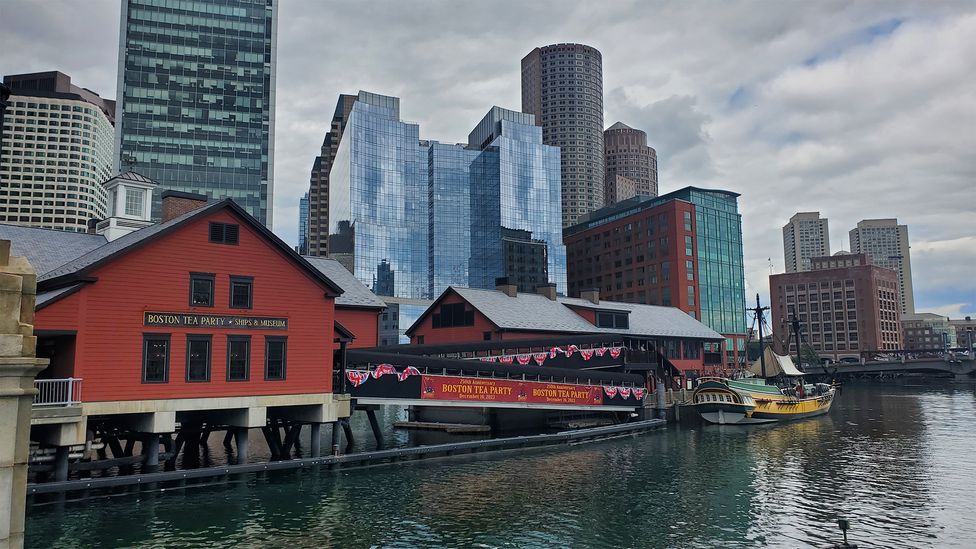 At the Boston Tea Party Ships & Museum, kids can hoist crates overboard into the harbour below (Credit: Mara Vorhees)
2. Paul Revere House and Boston Tea Party Ships & Museum
A lot of families assume that if they are in Boston, they should follow the Freedom Trail, but according to Heyworth, they shouldn't. It requires a lot of walking to see lots of landmarks and memorials, but only a few of these places are interesting to children. So, Heyworth recommends skipping the full trail and going to two family-friendly sites instead.
One is the Paul Revere House, which is not only the colonial-era home of the US patriot, but also one of the oldest houses in the city, dating to 1680. Exhibits focus on Revere's life and family (which included 16 children). The house also demonstrates 18th-Century daily living, so curious kids can learn about how food was prepared and what children did for fun in days of yore. Heyworth particularly recommends the special events in the courtyard – talks by historic character reenactors, tin-smithing demonstrations, fife and drum concerts, etc – offered on Saturday afternoons (in season).
Heyworth says the Boston Tea Party Ships & Museum also gives kids a compelling introduction to revolutionary Boston. Here, visitors participate in a re-enactment of the Boston Tea Party, hoisting crates overboard from the ships and into the Boston Harbor. The museum's unique multimedia exhibits examine the reasons for and ramifications of the protest. Afterwards, families can visit Abigail's Tea Room, where ladies dressed up in colonial-era garb serve tea and treats in an old-fashioned setting.
Website: www.paulreverehouse.org
Address: 19 North Square, Boston
Phone: 1-617-523-2338
Website: www.bostonteapartyship.com
Address: 306 Congress St, Boston
Phone: 1-617-338-1773
Instagram: @bostonteapartyships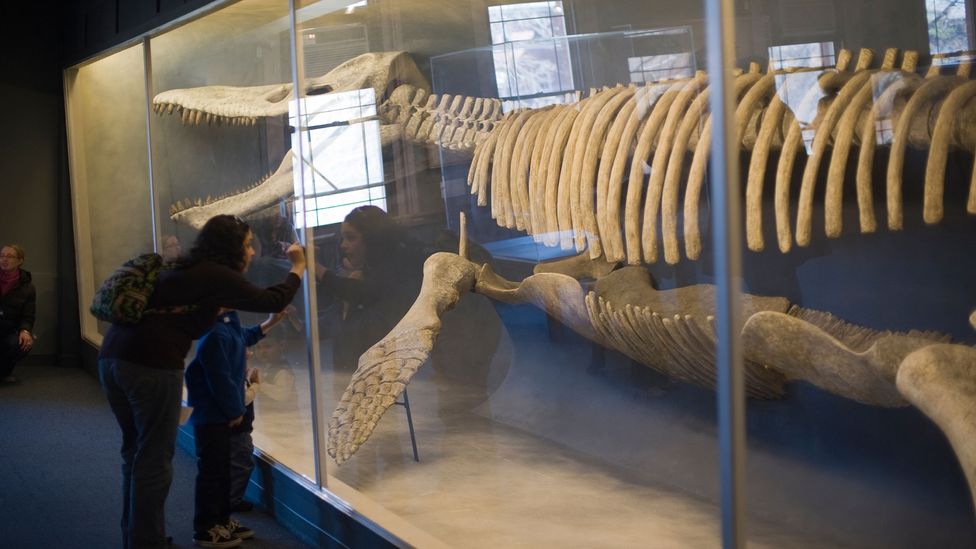 The Harvard Museum of Natural History is home to tons of mounted animals (Credit: Eric Fowke/Alamy)
3. The Harvard Museum of Natural History
According to Heyworth, even Bostonians do not fully appreciate this terrific museum on the campus of Harvard University. The Harvard Museum of Natural History (HMNH) is a smaller version of New York City's American Museum of Natural History, but she argues it's more family-friendly because it's smaller and far less crowded.
Heyworth recommends the Earth & Planetary Sciences Gallery, noting that children of all ages are often blown away by the rare minerals and sparkling gems – some of which they can actually touch. The gigantic, 1,600lb amethyst geode is a showstopper, but there are also giant quartz crystals, mind-boggling meteorites and a mini-exhibit on space exploration.
Animal lovers are entertained for hours at HMNH. In addition to geology and astronomy, the museum has a rather old-school but impressive collection of mounted animals on display in the dramatic (and aptly named) Great Mammal Hall. Another visitor favourite – with colourful specimens, live animals and lots of hands-on activities – is the exhibit on arthropods.
Website: www.hmnh.harvard.edu
Address: 26 Oxford Street, Cambridge
Phone: 1-617-495-3045
Instagram: @harvardmuseum
The views across Boston Harbor from Spectacle Island are fantastic (Credit: Marcus Baker/Alamy)
4. Boston Harbor islands
During the summer, a ferry boat departs from Long Wharf in downtown Boston and goes out to the barrier islands in the Boston Harbor, most of which are managed by the National Park Service (NPS). This is a fun way to beat the heat and embark on an unexpected urban adventure. There are a few dozen islands, but Heyworth says the best one for kids is Spectacle Island. There is a short hike (manageable even for small kids) that winds its way up to the top of North Drumlin hill, from where there is a tremendous view of the Boston Harbor and city skyline.
For years Spectacle Island was the site of a trash incinerator and later a rubbish dump, but it underwent a massive clean-up, resurfacing and landscaping in the 1990s. Heyworth says you can still find sea glass and porcelain chards and other "artefacts" on the island's beach. Bring a jar for beachcombing and collecting but be aware that NPS prohibits the removal of these treasures.
Fun special events at Spectacle Island include Thursday-night clam bakes and Sunday-afternoon jazz concerts during summer months.
Website: www.bostonharborislands.org
Address: 66 Long Wharf, Boston
Phone: 1-617-223-8666
Instagram: @bostonharborislands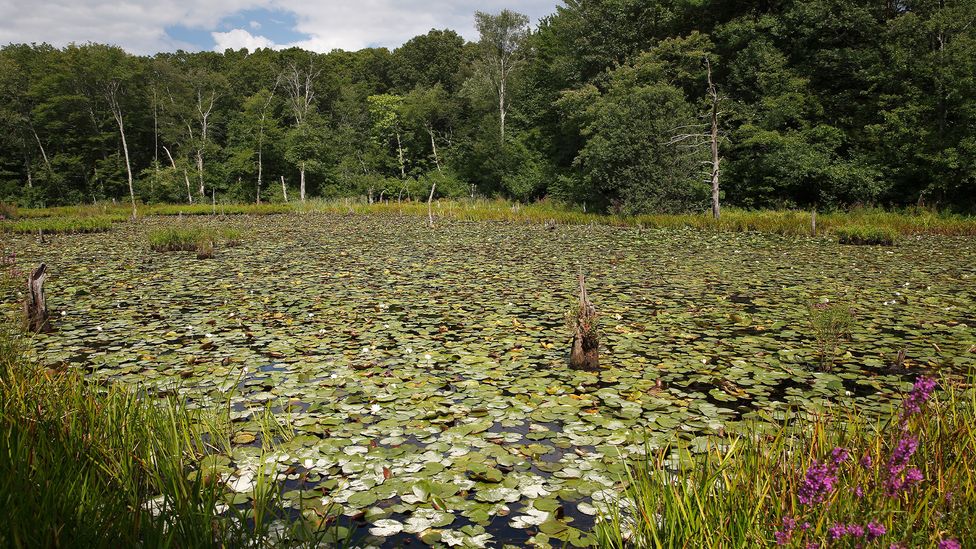 Blue Hills Reservation is a leafy oasis just outside the city (Credit: Michael Dwyer/Alamy)
5. Blue Hills Reservation
Perfect for nature lovers, Blue Hills Reservation is a vast expanse of forest-covered hills less than 10 miles from Boston. The state park contains 22 hills and more than 100 miles of hiking trails, but the main attraction is the Great Blue Hill, the highest in the park at 635ft. Heyworth says the hike to the summit is doable for kids as young as seven or eight who enjoy being outside and don't mind scrambling. At the top, a stone observation tower (Heyworth says her kids call it "the castle") triggers imaginations and rewards climbers with wonderful views stretching all the way to Boston.
At the hill's base, the Blue Hills Trailside Museum is a sweet little museum with exhibits about native plants and animals. Some owls and other woodland animals live in the outdoor enclosures. Heyworth doesn't leave without checking on the charismatic otter, who always entertains onlookers with flips and dips and other antics. It's best to stop here on the way out, because there's also a small gift shop where hungry hikers can get an ice cream.
Website: www.mass.gov/locations/blue-hills-reservation
Address: 695 Hillside Street, Milton
Phone: 1-617-698-1802
Website: www.massaudubon.org/get-outdoors/wildlife-sanctuaries/blue-hills-trailside-museum
Address: 1904 Canton Ave, Milton
Phone: 1-617-333-0690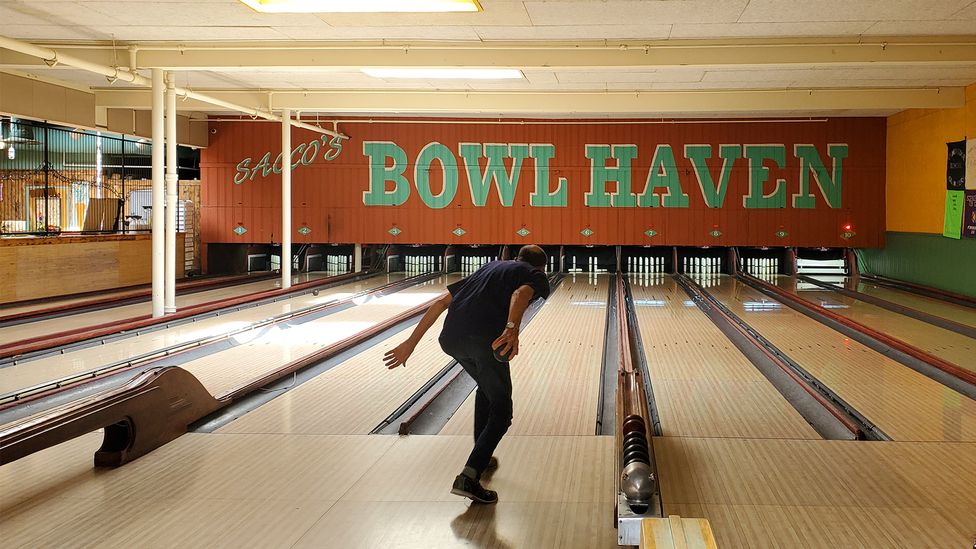 Sacco's is one of Massachusetts' last remaining candlepin bowling alleys (Credit: Mara Vorhees)
6. A day in Somerville
Located three miles north of downtown Boston, Somerville is a working-class city with a creative edge, home to students, artists, young professionals and families. It's not your typical tourist destination, but Heyworth touts a few unique attractions for families.
The Taza Chocolate Factory is a small-scale confectioner that was founded in Somerville in 2005. Heyworth explains that Taza is carrying on a long Massachusetts tradition of candy making, following in the footsteps of Baker's Chocolate, Necco, Charlestown Chew and others. But Taza does things a little differently, using organic cacao beans to produce unrefined, stone-ground chocolate. Chocolate lovers can learn all about it on a Taza factory tour. Heyworth recommends the shorter version of the tour, offered on weekends, with a scavenger hunt designed for kids and plenty of samples of different kinds of chocolate.
Next, Heyworth recommends families try their hand at a New England pastime at Sacco's Bowl Haven, one of the state's few remaining candlepin bowling alleys. A regional variation on the more widespread ten-pin bowling, candlepin features smaller pins and smaller balls, among other differences. It may be more challenging, but Sacco's puts bumpers in the gutters for the littlest bowlers (or anyone who requests them). Bonus: Sacco's is owned by American Flatbread, so bowling can be followed by excellent wood-fired pizza for the kids and cold craft brews for the parents.
Website: www.tazachocolate.com
Address: 561 Windsor St, Somerville
Phone: 1-617-623-0804
Instagram: @tazachocolate
Website: https://americanflatbread.com/locations/somerville-ma/
Address: 45 Day Street, Somerville
Phone: 1-617-776-0552
Instagram: @american.flatbread.co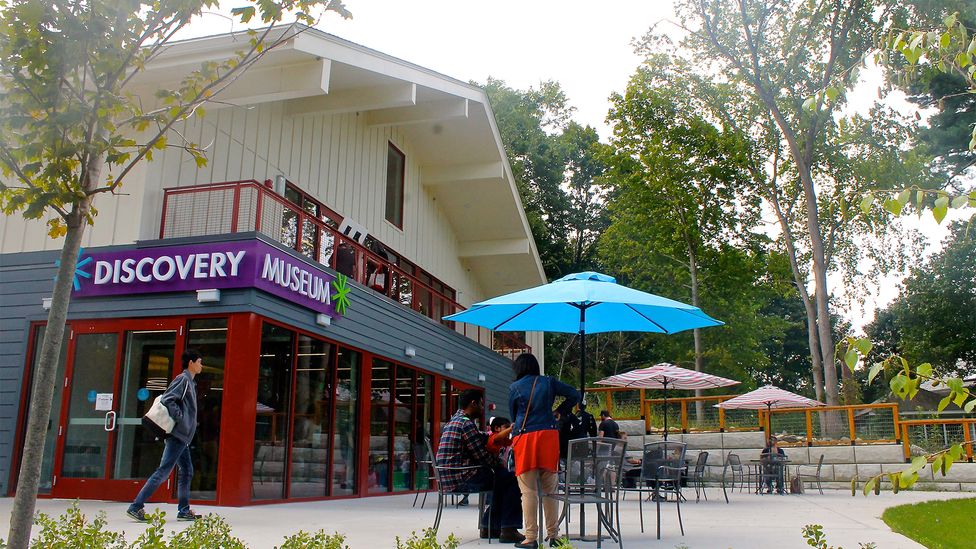 The Discovery Museum is a less-crowded alternative to the Boston Children's Museum (Credit: Discovery Museum)
7. Discovery Museum
About 25 miles west of Boston, the leafy suburb of Acton is home to the fantastic Discovery Museum and (even better) Discovery Woods outdoor play area. Although it is very popular with local families, it is virtually unknown to tourists and invariably less crowded than the Boston Children's Museum. Following a recent renovation and expansion, the museum caters to all ages and is packed with activities designed for learning through play, from make-believe to art and building projects to sensory play.
The littlest tots might spend all morning in the Make-Believe Area, cooking in the play kitchen or engineering a locomotive. Meanwhile, older kids can venture into da Vinci's Workshop to invent, design and build their own creations, just like Leonardo himself.
What's really special about the Discovery Museum, Heyworth says, is what's outside: the Discovery Woods. Open year round, this wonderful playground features a huge treehouse, as well as swings, slides and climbing structures built out of natural materials. The museum campus abuts the Great Hills Conservation Area, where young explorers can test their orienteering skills, following trails and maps through the woods. Heyworth appreciates that Discovery Woods provides the chance for kids to unleash some energy before or after the museum; but it's also a destination in its own right, with plenty of opportunities for learning and fun.