Southeast Asia's spicy and flaky curry puffs
May 20, 2023  -These flaky fried pastries, a staple snack in Malaysia and Singapore, are filled with curried potatoes, onions, peas and corn.
Growing up in Malaysia, Seleste Tan remembers strolling past street vendors after school and using whatever leftover pocket money she had to buy a snack. "Those are the days that we always had a curry puff in hand while walking home," Tan said.
Years later, memories of those compact deep-fried stuffed pastries have made their way to New York City, where Tan and her husband Mogan Anthony, both pastry chefs by training, run a Southeast Asian-themed patisserie and kuih (cake) shop called Lady Wong. Tan and Anthony both grew up in Malaysia but worked in Singapore before moving to New York City, where they have been since 2006.
[jump to recipe]
The couple said curry puffs were the first thing they thought of when they were thinking of a savoury item to sell at Lady Wong – a testament to how ubiquitous and famous the snack is in Malaysia and Singapore. It was a good decision: the puffs usually sell out by 14:00-15:00.
Anthony remembers his time working at a Hilton hotel in Singapore in his early-20s because of the smell of curry puffs. "Right in front of the Hilton hotel, there's a small stand, right? Every time you walk past it, you can smell the fried oil like a mile away," he said. "That smell brings me back [there] no matter what".
He also grew up eating curry puffs. His dad would sometimes bring them home as a teatime snack, or his mom would make a fresh batch for the family.
"Curry puffs are so Southeast Asian and remind you of childhood since you could buy them from the cafeteria, night markets, grocery shops, street vendors, restaurant or even at hotels," he said. "It's cheap to make, satisfies our soul, and the ingredients are available year-round." The recipe, he added, is "no fuss" with "no special techniques needed."
Seleste Tan and Mogan Anthony, founders of Lady Wong (Credit: Dan Ahn)
Many would say curry puffs are similar to Southern European and Latin American empanadas, South Asian samosas and British pasties. In fact, the curry puff is said to be influenced by all three through trade and colonisation over many centuries. It started with Portuguese traders, who came to places like Malacca in the 16th Century and introduced the empada, a stuffed pie. When the British colonised Malaya, the empada evolved to resemble more of a Cornish pasty, made with a variety of spices.
Even today in Malaysia and Singapore, there is no one fixed way of making curry puffs. There are versions with a flaky Danish pastry-like crust, ones with a thin crust and others with a buttery, thicker crust. The fillings differ too; you can use sardines, chicken or just potatoes and hard-boiled eggs.
Anthony and Tan decided to use his mum's recipe to make the Lady Wong version. He said it's spicier than Chinese-style curry puffs since it uses more curry powder. While not a must, he recommends using Malaysian curry powder because it has a different ratio of chilli powder to spices compared to other ones from South Asia. Plus, because the potatoes are cooked in a rempah (spice paste), the flavour of the spices are more concentrated, and the filling has more bite compared to versions where the potatoes are steamed.
The couple sells vegetarian curry puffs because the meat option wasn't as popular with customers when they first opened. They also made the puffs with kale at one point – "a very New York [thing]" – before reverting to the traditional recipe because they felt the kale left too grassy a note, and customers were asking for the classic version.
Curry puffs, Anthony said, are a good introduction to Malaysian and Singaporean food for New Yorkers. "They see this as a sort of empanada or samosa," he said. "They have some sort of a reference point." Whereas for Southeast Asians, curry puffs are tasty reminder of home.
Thanks to places like Lady Wong, Malaysian and Singaporean food have been making their mark in the Big Apple in recent years. Unlike in the past when Asian food was Americanised to cater to the local palate, the likes of Lady Wong have mostly stuck to original flavours. The bet paid off – just about six months after opening their East Village store in 2022, the business launched an outpost in the Singapore food-themed Urban Hawker food court near Times Square.
"It's exciting that Southeast Asian flavours have exploded in recent years. We are so happy that this is becoming a norm now," Tan said.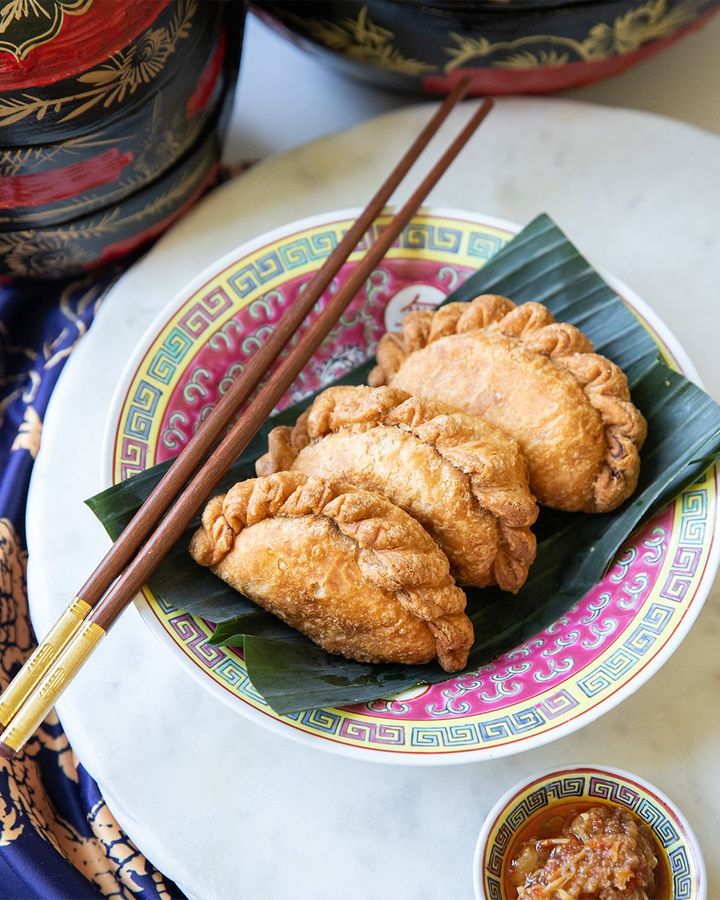 Seleste Tan and Mogan Anthony's curry puff at Lady Wong (Credit: Mogan Anthony)
INGREDIENTS
For the filling:
1 tsp canola oil
150g (5oz) boneless skinless chicken thighs, finely chopped (optional)
500g (just over 1lb) potatoes, peeled and diced
1 yellow onion, diced
4 tsp curry powder (preferably Malaysian curry powder)
2 bay leaves
½ tsp salt
¼ cup frozen peas, thawed
¼ cup frozen corn, thawed
For the wrappers*:
500g (17.6 oz) all-purpose flour, plus more for dusting
1 tsp salt
⅓ cup canola oil
1¼ cups water, room temperature
*You can also use store-bought empanada dough or puff pastry, thawed.
For frying:
4 cups vegetable oil
Method
Step 1
Make the filling. In a large pan set over medium heat, heat the canola oil. Fry your chicken, if using, until mostly cooked. Add the potatoes and onion, followed by the curry powder, bay leaves, salt and ½ cup of water. Cover and let the mixture cook until the potatoes are tender, 45 to 55 minutes, until you can poke through them with a fork. Season to taste.
Step 2
Transfer the filling to a bowl and let it cool completely. Fold in the frozen peas and corn. Discard the bay leaves.
Step 3
Make the wrappers. In a large mixing bowl, whisk the flour and salt. Make a well in the middle. Add the oil and slowly bring the dough together. Add the water slowly and mix everything together with your hands, kneading it together. You should form a very well-oiled ball of dough.
Step 4
On a floured surface, roll your dough into a tube about 20-30cm (8-12in) long. Slice the tube of dough into 20 to 22 pieces, depending on how large you like your curry puff. Roll each piece into a ball. Then with a rolling pin, roll each ball flat into a 10-13cm (4-5in) round wrapper. Cover the dough with a damp cloth.
Step 5
Fill each wrapper with 1-2 tbsp of the filling. Fold the wrapper over the filling. Pinch the edges together until completely sealed.
Step 6
Fill a large pot with the 4 cups of vegetable oil and set it over medium heat. Check the oil for bubbles. You can drop a small pinch of dough to see if its bubbles, which indicates the oil is hot, about 175C/350F.
Step 7
Using a slotted spoon, carefully place three to four curry puffs into the hot oil. Fry on each side for two minutes or until golden brown. Remove from hot oil and transfer to a paper-lined plate to cool; repeat with the remaining puffs. Eat while they are warm. You can also make them ahead and reheat them later in an air-fryer at 175-190C/350-375F for 3-5 minutes.