Shell reports stronger than expected profits
May 4, 2023  -BBC News –Oil and gas giant Shell has reported a stronger than expected profit of $9.6bn (£7.6bn) for the first three months of the year.
The figure was higher than the same period last year despite a slide in energy prices.
Fossil fuel firms have been reaping record profits due to a surge in oil and gas prices following Russia's invasion of Ukraine last year.
However, they have since fallen from the post-invasion peaks.
Shell chief executive Wael Sawan said the company had delivered "strong results and robust operational performance, against a backdrop of ongoing volatility".
The company also said it would be returning $4bn to shareholders, by buying back some its shares over the next three months.
Despite the fall in oil prices in recent months, Shell said its profits had been boosted by strong trading in its chemicals and refined products business.
Earlier this week, BP had also reported strong earnings for the first three months of the year – although they were lower than in the same period in 2022.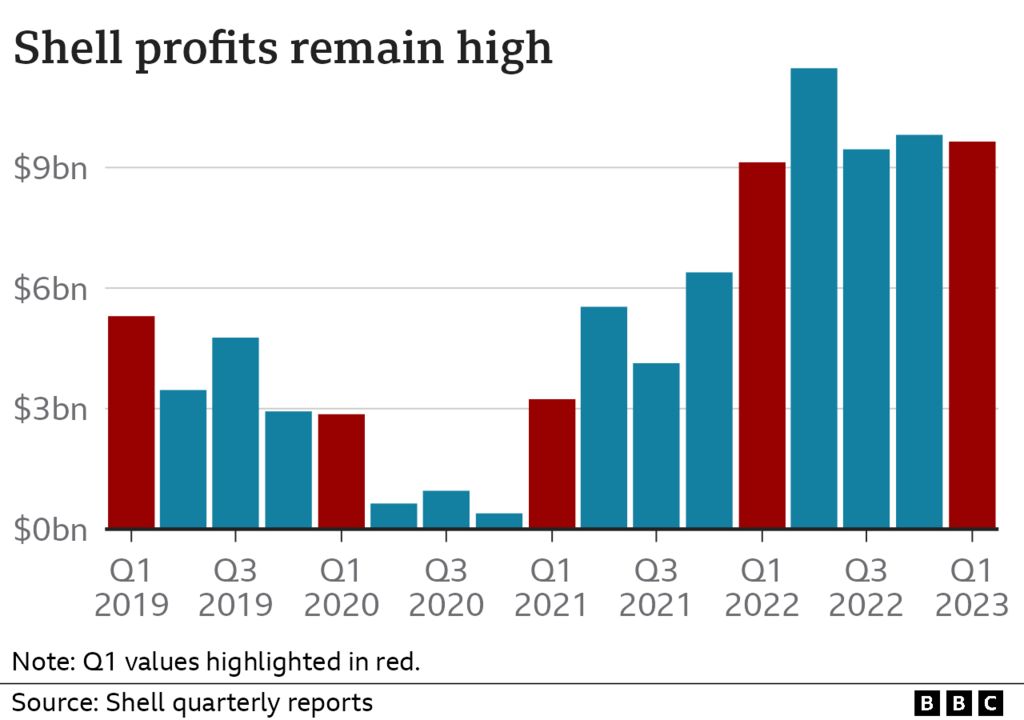 In February, Shell reported profits of $39.9bn for 2022, double the previous year's total and the highest in its 115-year history.
While the jump in oil and gas prices following the start of the war in Ukraine led to big profits for energy companies, it also fuelled a rise in energy bills for households and businesses.
Last year, the UK government introduced a windfall tax on profits made from extracting UK oil and gas – called the Energy Profits Levy (EPL) – to help fund its scheme to lower gas and electricity bills.
Under the government's Energy Price Guarantee, energy bills for a typical household have been limited to £2,500 a year, although this level of support is due to stop at the end of June.
However, the fall in oil and gas prices on the international markets has raised hopes that bills will fall below this level in July, making the price guarantee redundant.
Oil prices have dropped to around $80 a barrel from highs of nearly $128 following the invasion of Ukraine.