Second Republican debate: When is it and what to expect
September 25, 2023  –Six Republican candidates will battle it out at the party's second presidential debate on Wednesday – a televised event marked once again by the absence of the contest's frontrunner, Donald Trump.
The former president remains dominant over the rest of the field by a margin of more than 40 points, according to national opinion polls.
But a handful of candidates have strengthened their hand since the first debate, a heated affair held last month in Milwaukee, Wisconsin.
Top Republicans clash on abortion, spending and Trump
Who were the Republican debate winners and losers?
Here's what we can expect on Wednesday night.
Which candidates will be on stage?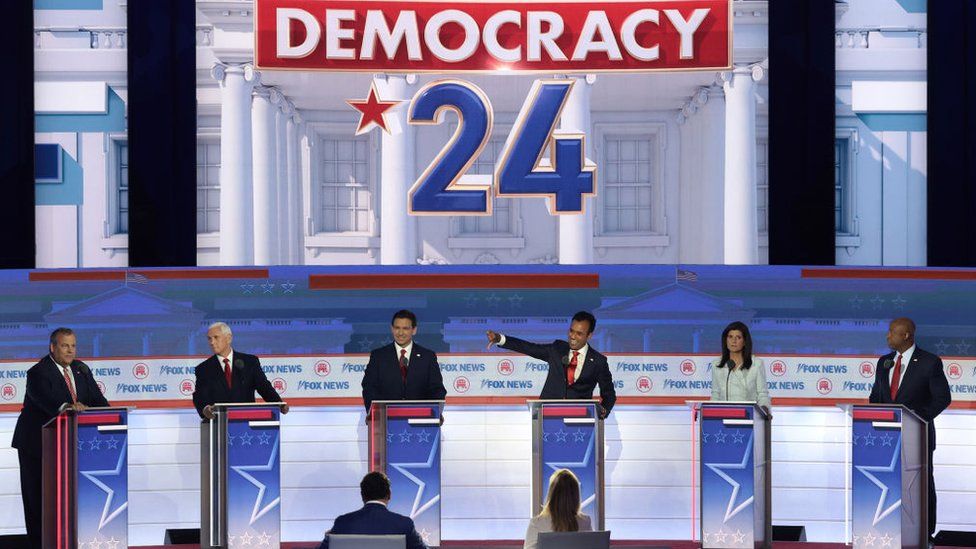 The six candidates participating in the second debate are:
Florida Governor Ron DeSantis;
Businessman Vivek Ramaswamy;
Former South Carolina Governor Nikki Haley;
Former Vice-President Mike Pence;
South Carolina Senator Tim Scott; and,
Former New Jersey Governor Chris Christie
The criteria required to participate in the event, set by debate organisers at the Republican National Committee, were slightly stricter than the first time around.
Candidates needed to reach at least 3% either in two national polls or in a combination of one national poll and two state-wide polls. They also had to secure support from at least 50,000 individual campaign donors and sign a pledge to support the eventual 2024 Republican nominee.
The higher thresholds appear to have left out two candidates who squeezed their way on to the stage in Wisconsin – North Dakota Governor Doug Burgum and former Arkansas Governor Asa Hutchinson.
Who are the Republican hopefuls not named Trump?
Why is Trump skipping the debate?
Even before the details of this event had been shared, Mr Trump, 77, was already indicating he would not participate.
He has suggested that being on stage with low-polling rivals can only hurt his commanding position, while also expressing dissatisfaction with the debate venue and moderators.
An interview with former Fox News anchor Tucker Carlson that aired on X during last month's debate appeared to draw several million more viewers, according to the company.
The former president will again hold a rival event on Wednesday, when he gives a speech before autoworkers and other blue-collar workers in Detroit, Michigan.
It has been more than a week since the United Auto Workers (UAW) union launched unprecedented labour action against the city's Big Three automakers.
Why are US car workers on strike?
Biden says striking car workers deserve 'fair share'
Mr Trump's speech will come a day after President Joe Biden, in an unprecedented move, joins the picket line at the invitation of the UAW – the only major union to withhold an endorsement of his re-election.
Mr Biden has often declared himself "the most pro-union president in history", so the duration and extent of the UAW strike, as well as how it ends, could have an outsized impact on the 2024 election.
When and where is the debate?
Wednesday's showdown takes place at the Ronald Reagan Presidential Library in Simi Valley, California, about 45 miles (72km) northwest of Los Angeles.
The two-hour event kicks off at 21:00 ET (01:00 GMT).
It is being hosted by the Fox Business Network and the Spanish-language TV channel Univision. It will also be live-streamed on the Rumble video platform.
Moderating the debate will be Fox anchors Dana Perino and Stuart Varney, as well as Univision's Ilia Calderon.
The inclusion of Univision comes as Hispanic voters have begun to peel away from the Democratic Party in recent years, in states like Arizona and Texas.
Haley and Ramaswamy look to consolidate
Two candidates who emerged stronger from the dustup at the first debate were Ms Haley, 51, and Mr Ramaswamy, 38. Both have since ascended in the polls.
Ms Haley now ranks either second or third with voters in the first three nominating states of Iowa, New Hampshire and South Carolina.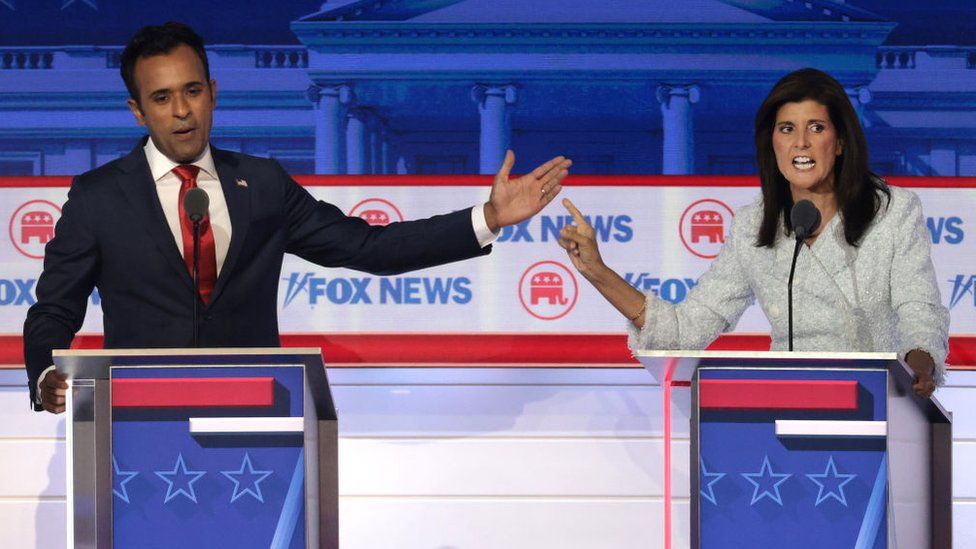 The ex-governor, who served as Mr Trump's ambassador to the United Nations for nearly two years, is the only woman in the race.
Last month, she staked out middle ground on the hot-button issue of abortion, criticised both parties over the national debt and showed off her foreign policy chops.
Trump backlash spotlights an abortion balancing act
Mr Ramaswamy, a brash newcomer to politics and the youngest candidate in this election, has risen to third in national polls.
The pharmaceutical entrepreneur debuted with a splash in Wisconsin, with unorthodox takes on everything from abolishing the FBI to ending military aid for Ukraine, and seemed to relish the attacks he faced.
Ramaswamy wants to gut the visa his company used
Both candidates can expect a pile-on from their rivals as they look to consolidate their standing among voters.
The two Indian-Americans are also likely to launch verbal barbs at each other, as they did at the first debate.
Make-or-break for DeSantis
Florida's governor was once billed as the man to carry Mr Trump's movement forward in this election and he stood at the very centre of the stage last month.
But there were long moments in those two hours when Mr DeSantis, 45, was side-lined from the conversation as others tangled over the issues.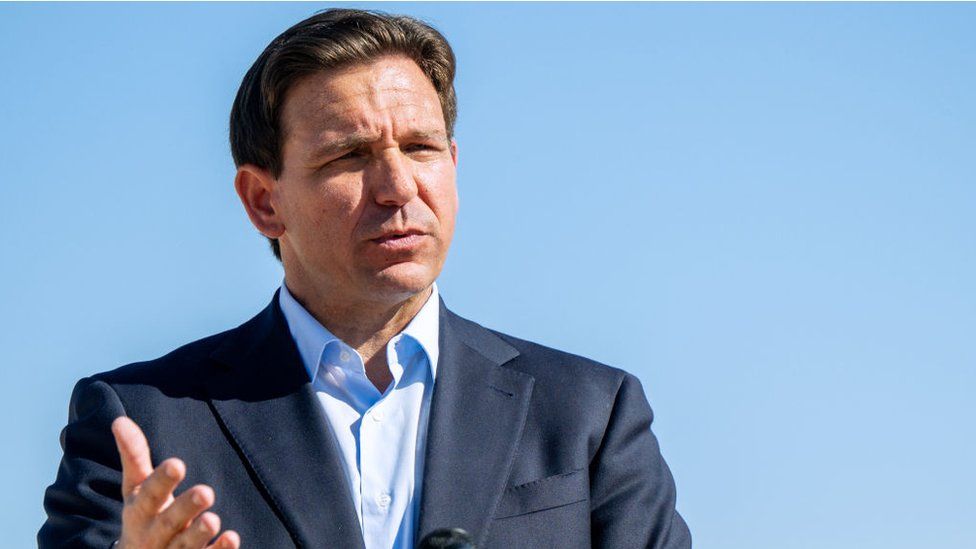 When Mr DeSantis did speak, he did not seem to deviate much from pre-rehearsed applause lines and he seemed unsure how to approach topics relating to his chief opponent.
While he remains the second choice of voters in national polls, his support is on a downward trend and top backers have hit pause on their donations.
It led one Republican consultant in Florida to tell Politico last week that many in the state are now "waiting for him to drop out".
If Mr DeSantis is to regain his mojo, he likely needs a standout performance on Wednesday night, one that differentiates him from the pack and makes a more aggressive play for Mr Trump's supporters.