Russian nuclear weapons 'in hands of Belarus dictator', warns opposition leader
June 15, 2023  -BBC News –Exiled Belarusian opposition leader Svetlana Tikhanovskaya has warned of the danger of transferring nuclear weapons from Russia into "the hands of a crazy dictator" in Belarus, after Alexander Lukashenko confirmed that the first "missiles and bombs" had arrived in the country.
Ms Tikhanovskaya, who was speaking to the BBC in Warsaw, accused Western politicians of "staying silent" about the first deployment of tactical nuclear weapons outside of Russia since the collapse of the USSR in 1991.
Mr Lukashenko, the authoritarian leader of Belarus, made his announcement in a staged discussion with a Russian state TV presenter, conducted somewhere in the Belarusian countryside with military trucks and hardware placed carefully in the background.
When the presenter asked him to clarify his statement – that Belarus has already received the weapons, sooner than expected – Mr Lukashenko chuckled, like the two were sharing a joke. "Not all of them. Gradually," he said.
Mr Lukashenko is seen as Russia's key ally, with Belarus serving as a launchpad for President Vladimir Putin's full-scale invasion of Ukraine in February 2022.
In comments clearly intended to rattle Ukraine's allies in the West, Mr Lukashenko stressed that the Russian bombs were "three times more powerful" than those dropped by the US on Nagasaki and Hiroshima in World War Two.
He added that he had not simply asked Russian President Vladimir Putin for the nuclear weapons.
"I demanded them back," he said, claiming that he needed them for protection from external aggression – a false threat he also uses to justify his repression of all political opposition.
Mr Lukashenko – who has been in power since 1994 – claimed victory in disputed elections in 2020, triggering mass protests and a brutal crackdown by the Belarusian KGB security service and riot police.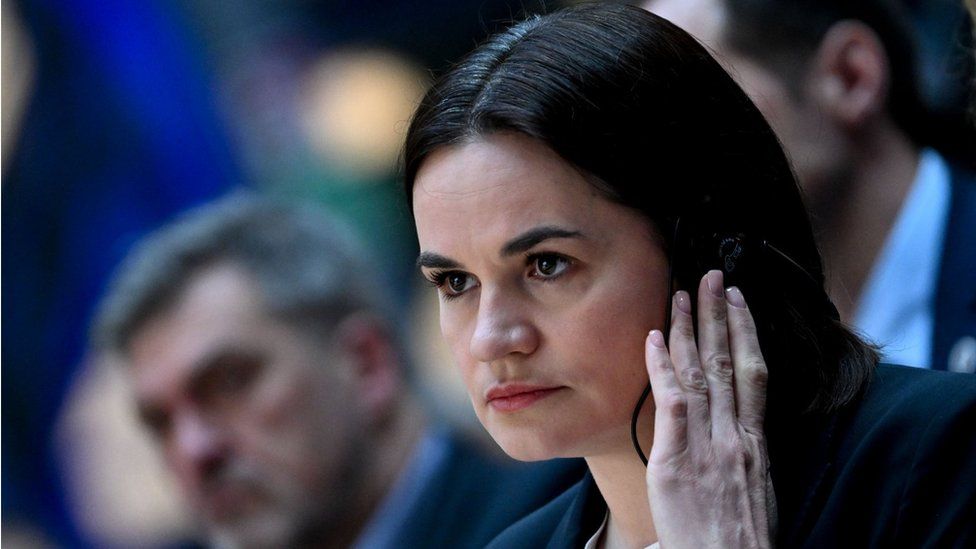 Belarus, like Ukraine and Kazakhstan, gave up its nuclear arsenal in the 1990s in return for security guarantees from post-Soviet Russia and the West. That makes this a significant reversal, although there is as yet no proof that the Russian weapons have been delivered.
Mr Putin first announced the transfer in March, pointing out that the US has deployed similar weapons in Europe. He later said the move would only take place when storage sites had been prepared, but Alexander Lukashenko now says Belarus has "more storage sites than village dogs" and several have already been renovated.
Moscow says it will retain control of the missiles, which are tactical – not longer-range strategic weapons.
"I am not planning to fight the US… tactical weapons are fine," Mr Lukashenko said. "And the Iskander [rocket] travels 500 kilometres (310 miles) or more."
"This deployment creates no new threat to Nato countries, so they don't take it seriously,"Ms Tikhanovskaya argued, believing that Western countries see no difference between a missile fired from Russia or from Belarus.
Russia already has nuclear weapons in its western-most Kaliningrad region, putting Poland and the Baltic states well within range.
"But Belarus is our country and we don't want nuclear weapons," Ms Tikhanovskaya said. "This is like the last step to keeping our independence. And they [in the West] are staying silent about that."