New heads of Jamaican missions announced by Foreign Affairs Minister
August 25, 2023  -Jamaica's Minister of Foreign Affairs and Foreign Trade, Senator the Honourable Kamina Johnson Smith recently announced the appointment of four Heads of Jamaican Missions.
"I am pleased to announce the appointments of Mrs. Marsha Coore-Lobban as High Commissioner to Canada; His Excellency Arthur Williams as Ambassador to the People's Republic of China; Dr. Richard Brown as the Head of Jamaica's Permanent Mission to the United Nations and Specialized Agencies in Geneva; and Mrs. Natalie Campbell-Rodriques as High Commissioner to the Republic of Trinidad and Tobago," Johnson Smith said.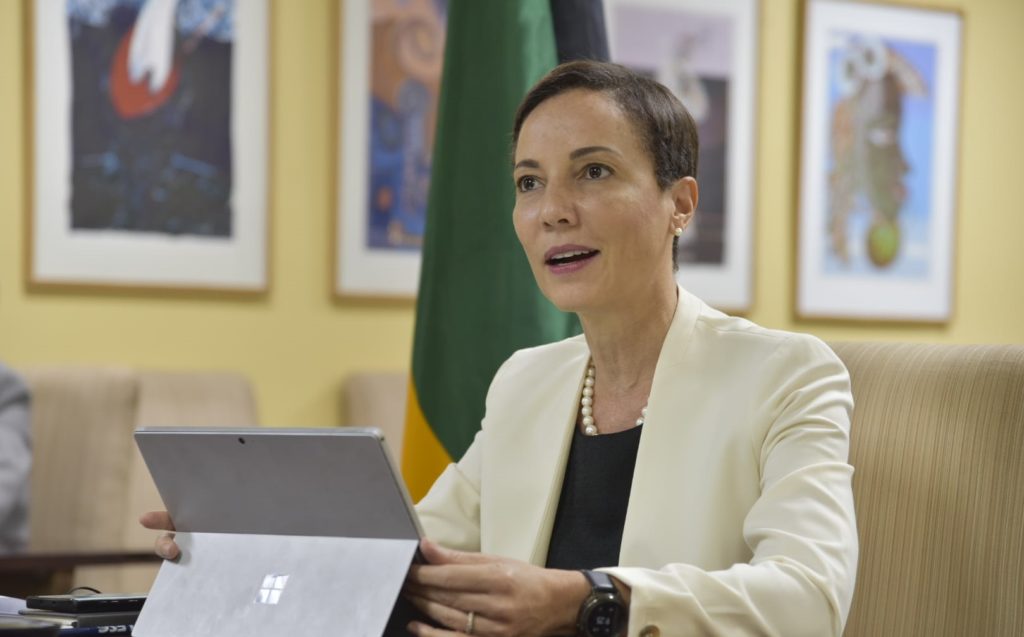 Jamaica's Foreign Affairs Minister completed whirlwind weekend visit South Florida
Kamina Johnson Smith disappointed that TCI blames Jamaicans for crime upsurge
Jamaican Kamina Johnson Smith Defeated in Commonwealth Secretary General Race
High Commissioner-designate Marsha Coore-Lobban – Canada
Mrs. Coore-Lobban is a career diplomat with over twenty-six years in the Jamaican Foreign Service. Currently assigned as the Acting Under-Secretary for Diaspora, Consular and Protocol Affairs, her previous overseas appointments include service as Deputy Consul General in Miami, Charge d'Affaires at the Embassy in Brazil and Deputy Chief of Mission at the Embassy in Washington, D.C. Mrs. Coore-Lobban holds a Masters in International Relations from the University of the West Indies.
Ambassador-designate Arthur Williams – China
His Excellency Arthur Williams currently serves as Jamaica's High Commissioner to the Republic of Trinidad and Tobago, with concurrent accreditation in non-resident capacity as High Commissioner/Ambassador/Consul General to several countries in the Caribbean. He has previously served as Senator, Cabinet Minister, and Board Representative of Jamaica at the Inter-American Development Bank. The Ambassador-designate is an attorney-at-law.
Ambassador-designate Richard Brown – Geneva
Dr. Brown is a career diplomat with over nineteen years of experience in bilateral, regional and multilateral trade. He currently serves as Acting Under-Secretary for the Foreign Trade Division of the Foreign Ministry. He also has previous assignments as Director for CARICOM Single Market and Sectoral Programmes at the CARICOM Secretariat, and as International Trade Specialist/Director of Trade at the then Ministry of Industry, Commerce, Agriculture and Fisheries. Dr. Brown received his PhD in International Economics from the Graduate Institute for International and Development Studies in Geneva, Switzerland.
High Commissioner-designate Natalie Campbell-Rodriques – Trinidad and Tobago
Mrs. Campbell-Rodriques served as a member of the Senate of Jamaica and as Senior Advisor to the Minister of Foreign Affairs and Foreign Trade having returned to Jamaica from Rwanda where she started a real estate company and undertook consultancies with international entities and NGOs on developmental issues including youth and gender matters. She also previously served as Community Relations/Diaspora Development Attaché at the Embassy of Jamaica in Washington D.C. She holds a Master's degree in Organizational Sciences from George Washington University.
In her concluding remarks, Minister Johnson Smith expressed her confidence in the newly appointed leaders. She also emphasized their pivotal role in bolstering Jamaica's presence and relationships across multiple platforms.
The Minister further extended her best wishes, ensuring the new appointees of the Ministry's steadfast support in their upcoming endeavors.