Muhammad Yunus: Leaders urge Bangladesh to end attacks on Nobel laureate
August 31, 2023  –More than 170 global figures have called on Bangladesh's prime minister Sheikh Hasina to stop the "persecution" of Nobel laureate Muhammad Yunus.
Prof Yunus – known internationally as the "banker to the poor" – has been slapped with swathes of lawsuits, with several more filed in recent weeks.
The open letter said these represented an assault on democracy.
Ms Hasina responded harshly, accusing the 83-year-old of "begging" for an international statement.
She added that she welcomed international experts to assess the ongoing legal proceedings against Prof Yunus.
While much of the Western world lauds Prof Yunus for his pioneering use of microloans, Ms Hasina regards the 83-year-old as a public enemy.
She has repeatedly described Prof Yunus as a "bloodsucker" of the poor and accused his Grameen Bank of charging exorbitant interest rates.
The bank, which Prof Yunus started in 1983, offers small, long-term loans to help poor people start their own small businesses. The concept has since taken off around the world. In 2006, Prof Yunus and the bank were awarded the Nobel Peace Prize.
The letter, whose signatories included former US Secretary of State Hillary Clinton, Virgin Group founder Richard Branson and U2 lead singer Bono, asked that the "continuous judicial harassment" of Prof Yunus be stopped.
"We sincerely wish that he [will] be able to continue his path-breaking work free of persecution or harassment," it added.
Muhammad Yunus, 'world's banker to the poor'
Many believe Prof Yunus' attempt to create a political party in 2007 with the apparent support of the military-backed caretaker government angered Ms Hasina, especially because she was imprisoned at the time.
Prof Yunus did not follow through on the plan and has since said politics "is not [his] cup of tea".
What are the cases against Prof Yunus?
Last week, 18 ex-employees of Grameen Telecom, another company Prof Yunus founded, filed a case accusing him of depriving them of their job benefits.
Separately, on August 22, he went on trial for supposedly violating labour laws.
They also come just four months before Bangladesh's next general election and amid growing calls to ensure free and fair polls.
There have been other cases in the past.
In 2011, Bangladesh's central bank forced him out of Grameen Bank on the grounds that he had served beyond the mandatory retirement age of 60.
In 2013, the authorities accused Prof Yunus of evading taxes on overseas income, which supposedly included his Nobel Prize award and royalties from a book.
Prof Yunus' lawyer Abdullah Al-Mamun says these cases are baseless and influenced by the government.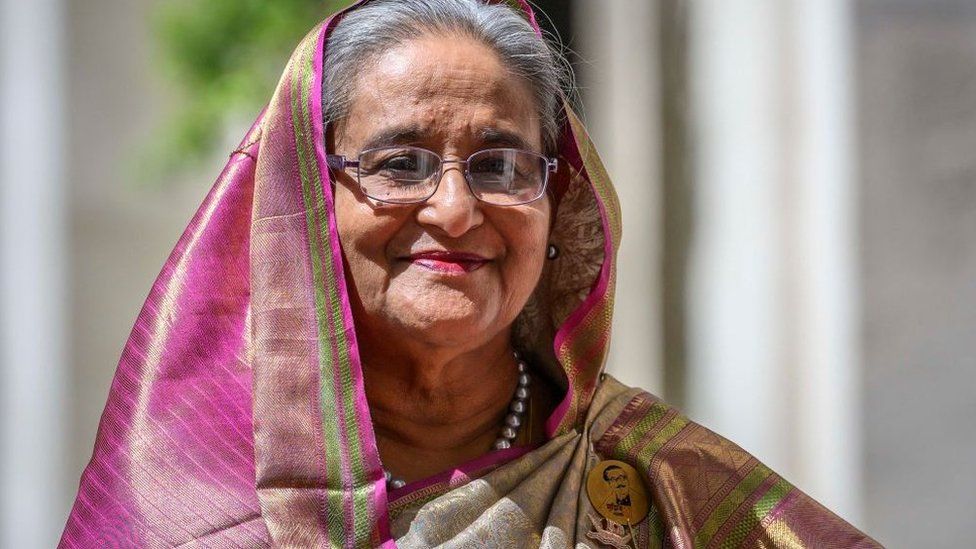 Ali Riaz, a political scientist at Illinois State University told the BBC that Ms Hasina "deeply resents" Prof Yunus' iconic standing in the world, even though he has not recently expressed any political ambitions.
Some believe Ms Hasina fears Prof Yunus' reputation soaring above that of her late father Sheikh Mujibur Rahman whom many Bangladeshis revere as the man who led their country to independence. He was assassinated in 1975.
The regime's sustained attacks on Prof Yunus also represent a growing intolerance of dissent, threatening the democratic principles on which it was founded, Prof Riaz said.
"The sudden rush in filing the cases and trying to get a speedy trial indicates that fairness and justice are not the objectives but instead making an example out of him is the goal.
"Such behaviour is demonstrated every day against the opposition activists and critics of the government," he added.