DATE ISSUED: Monday, September 20, 2021 @ 06:00 LST (10:00 UTC)
VALID UNTIL: Tuesday morning (06:00 LST) September 21, 2021
…A SMALL CRAFT ADVISORY IS IN EFFECT FOR ST. MAARTEN UNTIL 6:00 AM TUESDAY, SEPTEMBER 21ST…
WEATHER:
Today through tonight: Mostly cloudy with scattered showers, some of which may be heavy and isolated thunderstorms.
Tuesday morning: Partly cloudy to cloudy with isolated showers and a chance of thunder.
Forecast High: 31°C / 87°F Forecast Low: 24°C / 75°F
Sunset Today: 6:10 P.M. Sunrise Tomorrow: 6:01 A.M.
SURFACE WINDS: Today through Tuesday morning: Northeasterly to southerly with a light to moderate breeze of 04 to 14 mph and higher gusts possible in or near showers, also becoming lighter and variable at times.
SYNOPSIS: Instability and abundant moisture associated with Tropical Storm Peter will cause cloudiness, showers, and thunderstorms across the region. Residents and users of areas prone to flooding and rock-falls/mudslides should be vigilant. A small craft advisory is in effect for St. Maarten as 9 feet swells generated by Tropical Storm Peter are expected in and around local waters today. Small craft operators and sea bathers are advised to exercise extreme caution.
STATE OF THE SEA: Moderate to rough WAVES/SWELLS: 5 to 9 feet
SPECIAL FEATURES:
1. At 5:00 AM (0900 UTC), the center of Tropical Storm Peter was located near latitude 19.1 North, longitude 59.5 West, or approximately 245 miles east-northeast of St. Maarten. The system is moving toward the west northwest at 14 mph with maximum sustained winds are near 50 mph (85 km/h) and higher gusts. On the forecast track, Peter is predicted to pass about 145 miles north northeast of St. Maarten later today. The public is hereby urged to closely monitor its progress.
2. Tropical Storm Rose remains over the eastern tropical Atlantic and poses no threat to St. Maarten.
3. A well-defined tropical wave located just west of the African coast is likely to develop into a tropical depression during the next couple of days, as it moves generally westward across the Atlantic Ocean.
The Meteorological Department of St. Maarten will continue to monitor this system and update the public accordingly.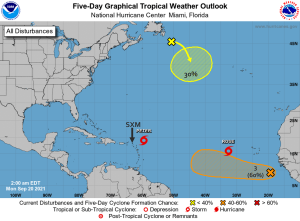 OUTLOOK through Wednesday morning: Partly cloudy to cloudy with isolated showers and a chance of isolated thunder.
FORECASTER: Connor
Extended Forecast
| | | | |
| --- | --- | --- | --- |
| Day | Monday | Tuesday | Wednesday |
| Weather | | | |
| | Isolated Thunderstorms | Isolated Showers | Partly Sunny |
| High Temperture | 31 ℃ / 88 ℉ | 31 ℃ / 88 ℉ | 32 ℃ / 90 ℉ |
| Low Temperture | 24 ℃ / 75 ℉ | 26 ℃ / 79 ℉ | 27 ℃ / 81 ℉ |
| Sunrise | 06:01 am | 06:01 am | 06:01 am |
| Sunset | 18:10 pm | 18:09 pm | 18:08 pm |