Kashmir battles alarming drug addiction crisis
June 5, 2023  -BBC News –On a rainy morning in May, dozens of young men queued outside a drug rehabilitation centre in Srinagar city in Indian-administered Kashmir.
Many of them were teens accompanied by their parents, waiting for their turn to receive medicines from the Institute of Mental Health and Neurosciences (IMHANS), the only government-run drug rehabilitation centre in Kashmir. The medicines help reduce their withdrawal symptoms and prevent the transmission of infectious diseases.
"Did you take heroin again?" a doctor asks a young man after examining the size of his pupils.
"Yes, I couldn't control myself," he replies.
For decades, life in the Himalayan region of Kashmir has been racked by conflict and unrest. Nuclear-armed neighbours India and Pakistan claim it in full but administer only parts of it, and have fought two wars over it. Since 1989, there has also been an insurgency against Indian rule in Kashmir, costing tens of thousands of lives. In 2019, India divided the former state of Jammu and Kashmir into two federally administered territories, flaring up tensions further.
Now the region is staring at a new crisis: officials say drug addiction is becoming a serious worry in Kashmir, devastating the lives of young people. They also say there is a sharp rise in the consumption of hard drugs such as heroin.
In March, a federal minister told parliament that nearly a million people in Jammu and Kashmir – around 8% of the region's population – use drugs of some kind, including cannabis, opioids or sedatives. While there are no comparable figures from earlier, doctors say there is a surge in the number of patients.
"Until a decade ago, we used to see 10-15 cases of drug addiction per day at our hospital. Now we see 150-200 cases a day. This is alarming," says Dr Yasir Rather, a psychiatrist and professor at IMHANS.
Experts attribute this to several factors, including a shortage of jobs and mental health issues arising from living in a conflict zone.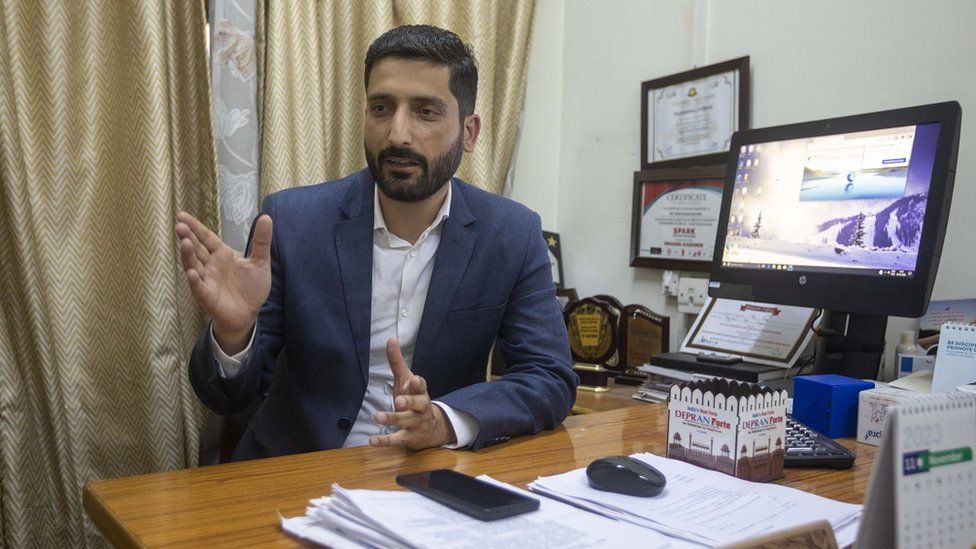 In press conferences, top police officials have highlighted the seizure of large quantities of banned substances, and said they have unearthed links to Pakistan. They allege that the money from drug smuggling is used to fund militancy in Kashmir – Pakistan has not officially responded to this allegation. But some drug dealers told this reporter that they also get supplies from other Indian states including Punjab and capital Delhi.
Substance abuse is not a new problem in the region. "But earlier, people would take cannabis or other medicinal opioids and heroin was not in the picture," Dr Yasir Rather says.
According to a survey conducted last year by the Jammu and Kashmir administration (there has been no elected government in the region since 2018), more than 52,000 people in Kashmir admitted to using heroin. The report says that on an average, a user spent around 88,000 rupees ($1,063.54; £860) a month to get the drug.
The numbers are likely to be higher as many people may not admit to their addiction or seek help due to the stigma around drugs.
Dr Mushtaq Ahmad Rather, director of health services in Kashmir, said that the government understands the severity of the problem and has taken several initiatives to tackle it.
But experts say there is an urgent need for more rehabilitation centres where addicts can be admitted and receive consistent treatment.
While there are a few private institutions, there are only two public drug rehabilitation centres in Kashmir, and both are located in Srinagar – one is IMHANS and the other is operated by the police.
Dr Mushtaq Rather says that the government has also set up Addiction Treatment Facility Centres (ATFCs) in each district. But unlike drug rehabilitation centres, ATFCs don't have admission facilities. They are small clinics with one doctor, a counsellor and a nurse to treat patients.
"These ATFC centres provide counselling, treatment and medicines to the patients for free," says Dr Mushtaq Rather.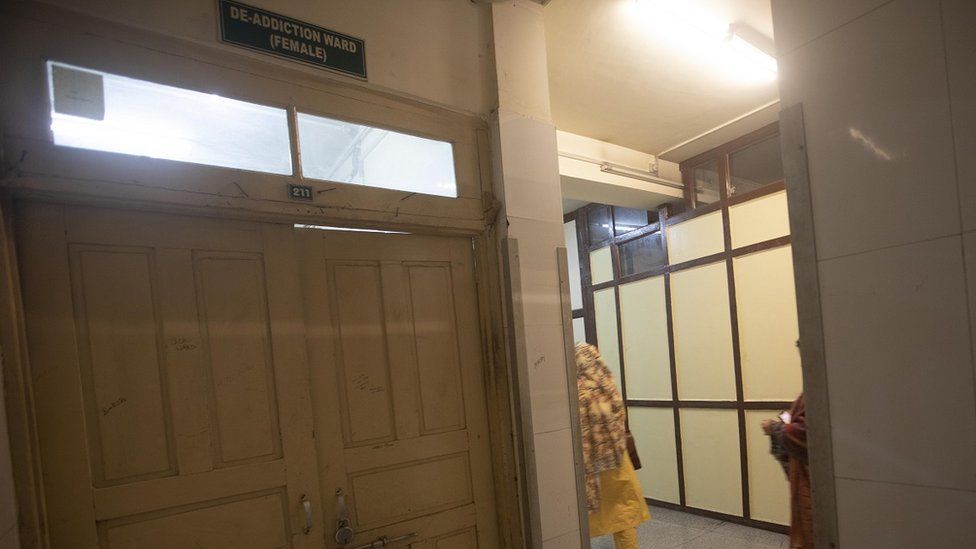 At IMHANS, the doctors are overwhelmed with patients who have come from all over Kashmir. While some drug users have voluntarily admitted themselves, others have been brought by their families. Most of the patients are men, though there are a few women as well.
"This is a sweet poison that will destroy you," says Danish Nazir (name changed), 23, a patient who has been at IMHANS for three weeks.
Mr Nazir, a businessman, runs a shop in Srinagar and says he would use his income to buy some heroin almost every day. But he recently got engaged and when his fiancée found out, she encouraged him to get help. The couple have decided they will only get married after Mr Nazir recovers completely.
Another patient, a 15-year-old boy who barely has a stubble on his face, says he started using drugs with his friends.
"They are easily available here," he said.
Some social activists say that the government has the primary responsibility of breaking the chain of drug supply.
"The police and the administration need to act swiftly on any inputs or information received about drug dealers," says Syed Shakeel Qalandar, an activist based in Kashmir.
Vijay Kumar Bidhuri, the divisional commissioner of Kashmir who supervises administrative issues, did not respond to a request for comment.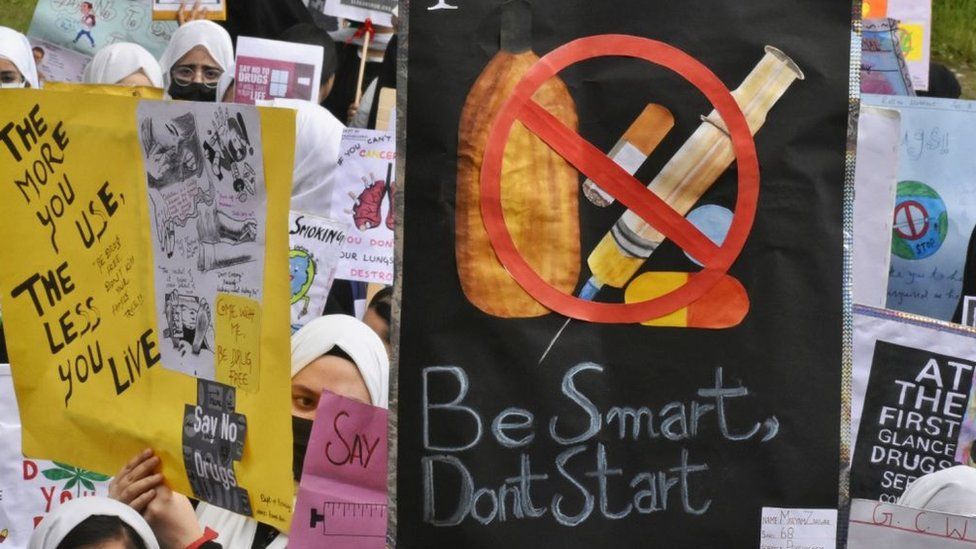 Vijay Kumar, the police chief of Kashmir, also did not respond to text messages. Police records show that more than 5,000 cases have been registered under the anti-narcotics law between 2019 and 2022. Officials have said they are conducting massive operations against drug dealers and the people who supply drugs to them. Apart from laws related to to the sale and use of narcotics, they are also using stringent laws such as the Public Safety Act – which allows police to detain people for at least a year without a trial – to crack down on drugs.
"But tackling drug abuse is not only the job of the police. Society also needs to come forward," a top police official told the BBC on condition of anonymity.
Apart from the serious physical and negative effects of drug abuse, there are other consequences too. Dr Yasir Rather says that users sometimes share syringes, increasing chances of contracting infections such as Hepatitis C.
There has also been an uptick in other crimes such as theft as people seek to get money to fund the addiction.
While the situation is serious, people like Mr Nazir are trying hard to get their life back on track. He says he is feeling better, and has words of hope for others.