Egypt bans Dutch archaeologists over exhibit about black musicians
June 7, 2023  –A Dutch museum says its archaeologists have been banned from carrying out excavations at a key Egyptian site over an exhibition exploring the influence of ancient Egypt on black musicians.
The National Museum of Antiquities in Leiden said Egyptian authorities had accused it of "falsifying" history through its showcase of work by artists including Beyoncé, Nas and Miles Davis.
It called the argument "unfounded" and expressed disappointment at the ban.
Egyptian officials have not commented.
But last month Egyptian media reported that the exhibition had angered a local antiquities expert, who said it supported "Afrocentric theory".
The event prompted an Egyptian MP to ask the government what it was doing to "confront the distortion of Egyptian civilization".
The museum also said that it had received comments via social media that were "racist or offensive in nature" since the exhibition opened.
The dispute comes only weeks after Egyptian authorities condemned a new Netflix docudrama series depicting Queen Cleopatra as a black African as a "falsification of history".
The antiquities ministry insisted that Cleopatra had "Hellenistic (Greek) features", including "light skin".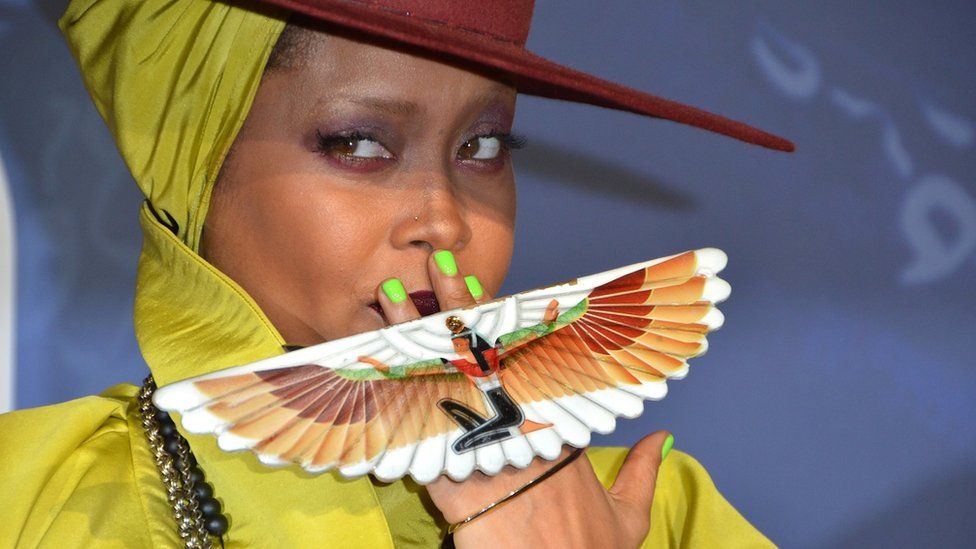 The exhibition at the National Museum of Antiquities (RMO) – entitled Kemet. Egypt in Hip Hop, jazz, soul & funk – aims to demonstrate how Ancient Egypt and Nubia have been "an undeniable source of inspiration for musicians of African descent for over 70 years".
The artists have embraced the ancient cultures and employed the associated motifs "as symbols of resistance, empowerment and spiritual healing", it says.
It features photographs and music videos showing how Beyoncé and Rihanna had both appeared as Queen Nefertiti; a modern sculpture of Nas based on the famous gold mask of King Tutankhamun; several of Sun Ra's Egyptian-inspired costumes; and songs by artists ranging from Nina Simone and Fela Kuti to Erykah Badu and Lauryn Hill.
The exhibition also looks at what scientific research has revealed about ancient Egypt and Nubia and discusses how they have been studied from Eurocentric and Afrocentric perspectives.
The RMO said in a statement on Wednesday that it was disappointed to be informed in a recent email from a senior Egyptian antiquities official that it was no longer allowed to excavate at the Saqqara necropolis near Cairo after almost 50 years of work there.
"The Egyptian authorities have every right to terminate a permit for an excavation; after all, it is their land and their heritage. However, the museum considers the underlying argument for this decision incorrect."
It added: "The Egyptian authorities conclude that our current exhibition… is about 'falsifying' the ancient Egyptian history. This political argument is used to express the dissatisfaction with the exhibition and to ban our excavation."
The RMO also expressed surprise that the argument was being made by "people who have not actually seen the exhibition".