Cannes: Alicia Vikander on playing Catherine Parr in Henry VIII drama 'Firebrand'
May 24, 2023   -CANNES, France (AP) — It's widely know that Henry VIII, the Tudor king, had a particularly grim batting average when it came to matrimony.
His litany of wives, of course, are the subject of the current Broadway show, "Six," and many other productions. The wives' succession of fates — two beheadings and three other deaths — has long loomed in the historical imagination.
The new film "Firebrand," which premiered over the weekend at the Cannes Film Festival, takes a different approach to a much-dramatized chapter of 16th century British history. The film, directed by the Brazilian filmmaker Karim Aïnouz, stars Alicia Vikander as Catherine Parr, the sixth wife of Henry and the only one to outlive him.
"Catherine Parr, out of all of the six wives I probably knew the least of," Vikander said in an interview on a Cannes hotel terrace. "And it seemed like that was the general feel from everybody that I talked to. The one woman who survived was the least interesting to know about."
"Firebrand," adapted from Elizabeth Freemantle's novel "The Queen's Gambit," has all the accoutrement of a lush period drama (Jude Law grandly co-stars as Henry), but it's animated by a twist in perspective and a feminist spirit. "History tells us a few things, mostly about men and war," a title card announces at the movie's beginning.
The film follows Parr as she negotiates a coarse, abusive husband while trying to have some role in shaping national affairs. She's friends with the controversial Protestant preacher Anne Askew (Erin Doherty), a relationship that poses grave danger to Parr if found out. Meanwhile, some members of the king's court, including the bishop Stephen Gardiner (Simon Russell Beale), conspire to have Parr follow in the footsteps of Henry's prior wives.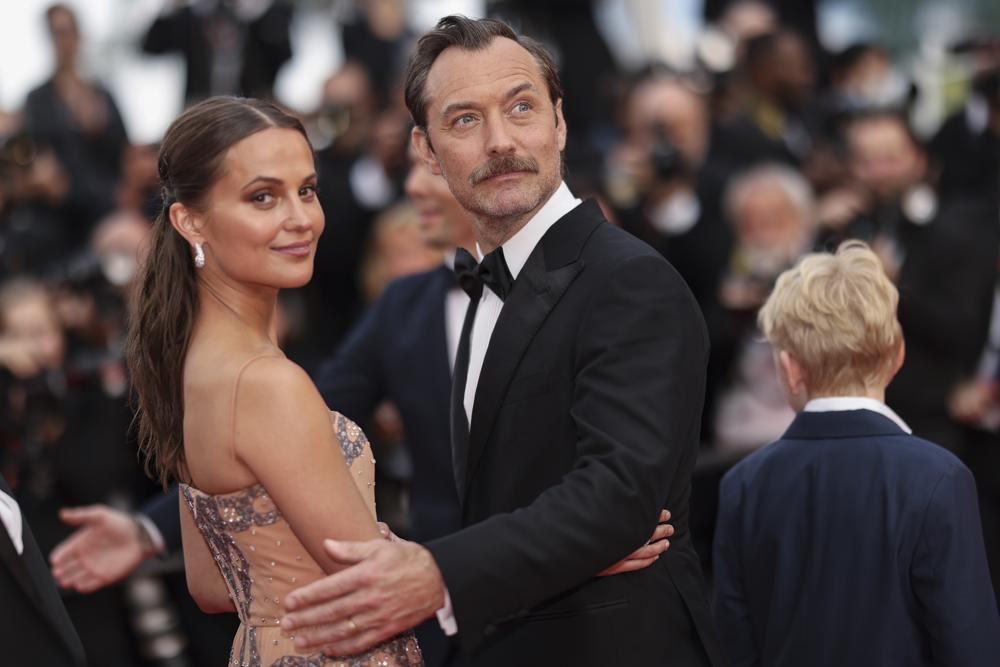 For Vikander, the preternaturally poised 34-year-old Swedish actor, investigating Parr was full of discovery. Parr penned several books in her life and spoke openly about Protestantism, the Reformation and then-controversial English translations of the Bible. That led to accusations of heresy and increasing distrust from Henry.
"The first Wikipedia search I did when I was sent the script, I saw that she was the first queen who's ever been published under her own name in British history," said Vikander. "I thought: That's really a huge feat to do that with the kind of views that she's tackling whilst being married to a man known to be the most terrifying and dangerous man with quite different beliefs."
"I thought: When did I read a text that's older than 100 years from a woman?" added Vikander.
Vikander has often been at home in costume dramas. She starred in "A Royal Affair" and "Anna Karenina" before winning an Oscar for her performance in 2015′s "The Danish Girl." But some of her best performances — the robot android of "Ex Machina," the miniseries "Irma Vep" — have been more contemporary.
"Firebrand," which doesn't yet have a release date, speaks to both past and present. To stretch the point, the film ultimately relies on some speculative fiction to imagine what might have happened behind closed doors.
"Jude and I said even if we sat with 20 history books in front of us, they all have the same pillars of points and have different ways of interpreting what's in between," says Vikander. "That's what we were doing, too, with artistic choices we made."
Shot on location at Haddon Hall, Vikander and Law had dressing rooms in the castle cellar. The clothes, too, were transportive.
"Between takes sitting with the other women, in those costumes you don't sit up straight. We were all lying on the floor in those corsets," said Vikander. "It gave me a real image. This is what it was like."