Buying banknotes to survive Zimbabwe's sky-high inflation
April 26, 2023  –"Everyone finds selling on the streets the easiest way to survive, but you have to be creative."
Noel Ngwenya, 44, from Chivi District of Masvingo Province spends his working days in downtown Bulawayo, the country's second largest city, with a loudhailer advertising a unique service.
He collects torn or soiled foreign currency notes that have been rejected by supermarkets and other traders – mostly US dollars or South African rand, which are both legal tender in Zimbabwe.
Mr Ngwenya pays his clients 50% of the value of whichever note they bring – so they get $1 for a torn $2 note or 100 rand for a torn 200 rand note.BBC News –
"Things are worse after Covid-19, it's like everyone is now on the road selling something since there is almost no formal employment in the industries," he says.
Zimbabwe's rate of inflation has been falling since August 2022 when it hit a staggering 285%. However, in March this year it was still running at 87.6%, forcing Zimbabweans to find creative ways to survive.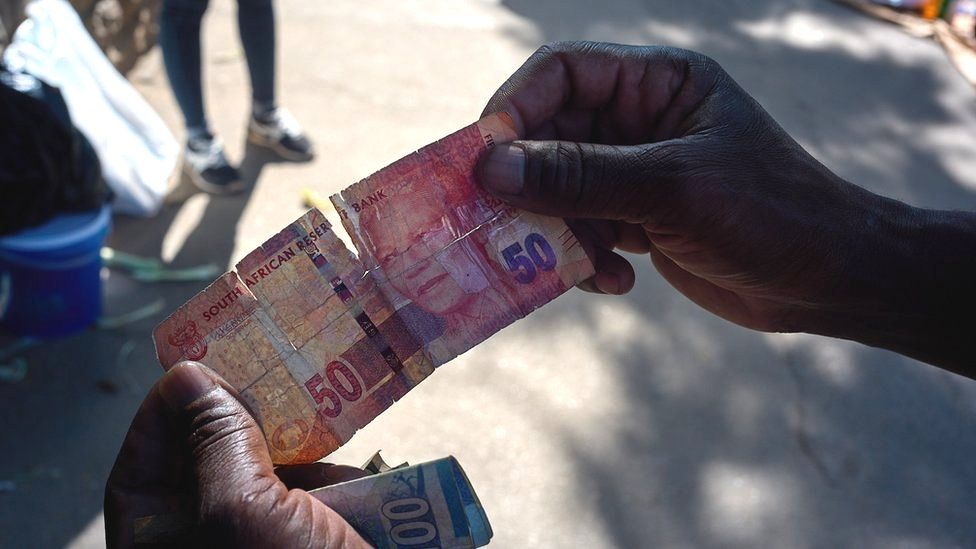 A recent International Labour Organization Harare report says 76% of employment in Zimbabwe is now in the informal sector, in other words, selling goods or services without registering with the authorities.
The informal economy, massive bank charges and distrust of the banking sector mean Zimbabweans prefer to deal in cash or mobile money.
Mr Ngwenya describes himself as an agent for middlemen who have contacts in the US, South Africa or local banks, where they exchange the torn or soiled cash for good notes. They provide him with an operating float each time they pick up the torn notes and pay him a commission.
A married father-of-five, Mr Ngwenya supplements his unpredictable trade by selling fruit and roasted corn on the side. "Things used to be good but these days business is slow," he says. "Sometimes you can be lucky and have someone bring you a torn $100, some days you have to make do with the $1 and $2 notes."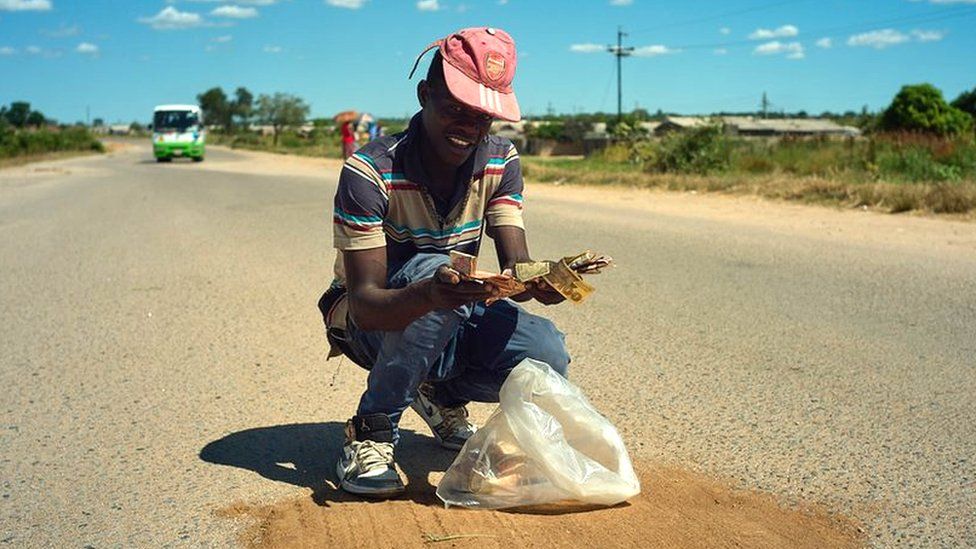 Decades of corruption and economic woes have led to the deterioration of the national and inner city road infrastructure. This presents an opportunity for Mayibongwe Khumalo, 25, from Cowdray Park, a sprawling suburb about 25km (15 miles) west of Bulawayo.
He is one of many people who patch up potholes around the city in return for small change from grateful or sympathetic motorists.
"We fill up potholes because we see them inconveniencing drivers. I'm broke and I wish I could get money but I don't want to beg like a blind man," Mr Khumalo explains.
"We have so many blind people in Bulawayo that motorists are no longer touched by their plight. I am an able-bodied person and no one is going to throw money at me.
"I believe by fixing the roads, those who see value in what I'm doing will give me something. On a good day, like today, I've made $9 (£7) and 100 rand ($6; £4) and hundreds of Zimbabwe dollars (ZWL$).
"It means I won't go back home to my family empty-handed. My three children and wife are able to get by and tomorrow is another day."
Mr Khumalo has worked as a minibus driver and a tout and occasionally dabbles in music as a backing dancer for a popular musician who performs tjibilika – fast-paced music influenced by Congolese rumba, accompanying songs about social issues.
Of Zimbabwe's estimated 5.2 million traders in the informal economy, 65% are women. The government wants to formalise this growing sector of the economy as part of a national strategy to increase tax revenues. It is clamping down on small businesses, sending law enforcement officers to inspect trading licences and fine those who are non-compliant.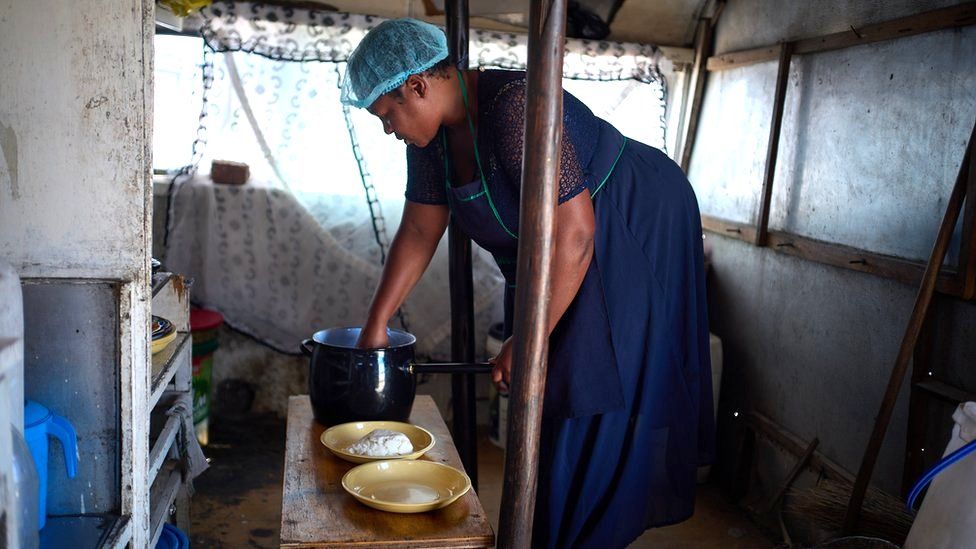 Sukoluhle Christine Malima, 36, runs a restaurant in an old caravan trailer at a public transport terminus in Bulawayo. She says it's impossible to save enough money to register as a business, so she is often forced to pay $4 fines.
"My plan is to raise money for my trading licence but the constant arrests and increased competition have made things harder. Each time you set aside some cash, the police come to check for licences and you have to pay the inevitable fine."
Ms Malima sells Sadza, porridge made from maize "mealie meal" or millet, and a piece of chicken stew for $1 per plate to minibus drivers and other vendors.
"I buy a broiler chicken for $6 and cut into 12 pieces which produces 12 plates of Sadza and chicken, giving me $12 per day. From there I deduct $1 for mealie meal, $1.50 for cooking oil and another $1.50 for tomatoes and onions, so my profit is around $2 or $1.50 per day, which I try and save for my licence. But then the police come again and I am back to square one."
Ms Malima's frustrations are shared by Mercy Tafirenyika, 51, who has been designing and sewing nurses' uniforms in Bulawayo's central business district since 1999.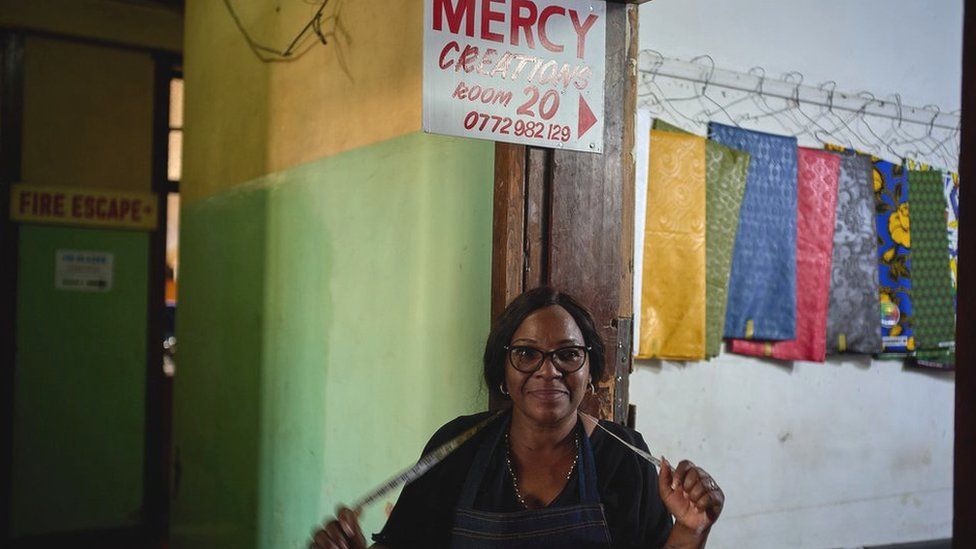 She says competition is increasing as other people turn to tailoring to earn extra money. The country's worsening power cuts are reducing the number of hours she can work and the cost of raw materials is increasing.
Ms Tafirenyika operates out of a block of flats that has been converted into offices and shops for small businesses and sole traders. She says her business is registered and tax compliant, but Bulawayo City Council has told her shop licences are not valid in a flat, and she can't afford to relocate.
"Earlier today, I was away at a funeral and the police picked up one of the ladies that I work with and demanded a ZWL$28,000 ($28; £22) fine in lieu of the shop licence.
"What bothers me is that they do not co-operate. Last time they were here I asked them to tell me what licence exactly they wanted, but instead of answering me they became aggressive and took me to the police station where I paid another fine.
"I am not trying to disobey the law, I simply want clarity on the licence issue but no one seems to give us satisfactory answers."
Ms Tafirenyika doesn't know what the future holds. As the struggle to survive gets harder, driven by sky-high inflation, the cost-of-living crisis and widespread unemployment, many Zimbabweans are increasingly despairing.
As the popular saying on Zimbabwean social media puts it: "The Zimbabwean dream is to leave Zimbabwe."