Broadbell Crashes Out of Sprint Hurdles – But Many Caribbean Athletes Make Progress at World Champs
August 20, 2023 It was heartbreak for Jamaica's 110m hurdles gold medal contender Rasheed Broadbell who crashed out of competition during the morning session on the second day of the 19th World Athletics Championships inside the National Athletics Centre on Sunday.
Men's | 110m Hurdles – Broadbell, Parchment, Bennett (Jamaica 🇯🇲) Cherburn (Haiti 🇭🇹) & Brown (Cayman 🇰🇾)
Broadbell, the reigning Commonwealth Games gold medallist, got off to a slow start in Heat Three but recovered to be in contention for victory only to hit one of the later hurdles and fall to the ground, dashing any hopes of progress to the next round.
The National Champion has a personal best of 12.94 seconds set on July 9 this year and was seen by many analysts as a certain medal contender, and a serious threat for gold.
It was not all doom and gloom for Jamaica as reigning Olympic Games gold medallist Hansle Parchment cruised through to win Heat One in 13.30 seconds, while teammate Orland Bennett finished fifth on Heat Four in 13.39 seconds to advance to the semis alongside Parchment.
Bennett carried with him to the next round Haiti's Yves Cherburn who produced a personal best 13.56 seconds. However, Cayman Islands' Rasheem Brown was eliminated after finishing seventh in Heat Three in 14.02 seconds.
Women's | 100m Fraser-Pryce, Jackson, Morrison & Forbes (Jamaica 🇯🇲) Ahye, Bertrand (Trinidad 🇹🇹) Alfred (St Lucia 🇱🇨) Hazzard (Grenada 🇬🇩) & Garcia (Cuba 🇨🇺)
It was business as usual for Jamaica's four women who all made progress to Monday's semi-finals of the 100m.
In heats Sunday morning, Shelly-Ann Fraser-Pryce won Heat Seven in easy fashion in 11.01 seconds; Shericka Jackson won Heat Four in 11.06 seconds, while Natasha Morrison was second in Heat Five in 11.02 seconds and Shashalee Forbes was runner-up in Heat Six in 11.12 seconds.
Morrison played second fiddle to American Sha'Carri Richardson was the fastest qualifier with 10.92 seconds, while Trinidad and Tobago's Michelle-Lee Ahye was second in her heat in a season's best 11.16 seconds.
St Lucia's Julien Alfred won Heat One in 10.99 seconds, but Halle Hazzard of Grenada could fare no better than fifth in Heat Two in 11.34 seconds (season's best), as Cuba's Yunisleydis Garcia was disqualified.
Lean Bertrand of Trinidad and Tobago also failed to make progress after finishing sixth in Heat Three in 11.32 seconds.
Men's 400m Hurdles – Hyde & Clarke (Jamaica 🇯🇲)
Two of Jamaica's three starters on the men's 400m hurdles heats advanced to the semi-finals. Those making it through were National Champion Roshawn Clarke who finished third in Heat Four in 48.39 seconds, and Jaheel Hyde was second in Heat Five in 48.63 seconds.
Assinie Wilson did not start in Heat One.
However, Kyron McMaster of the British Virgin Islands won Heat Two in 48.47 seconds. The US Virgin Islands' Malique Smith was ninth in Heat Three in 50.86 seconds, and Shakeem Hall-Smith of The Bahamas could only muster 49.61 seconds for seventh place in Heat Five.
Women's 400m Hurdles – McLeod, Pryce, Young (Jamaica 🇯🇲) Williams, Miller-Uibo (Barbados 🇧🇧) Gomez (Cuba 🇨🇺) Abrams (Guyana 🇬🇾) & Paulino (Dominican Republic 🇩🇴)
It was also total progress for Jamaica's women in the 400m heats. Candice McLeod finished third in Heat One in 50.37 seconds; Nickisha Pryce won Heat Four in 50.38 seconds, while Charokee Young finished sixth in Heat Six in 51.24 seconds but advanced as one of the fastest losers.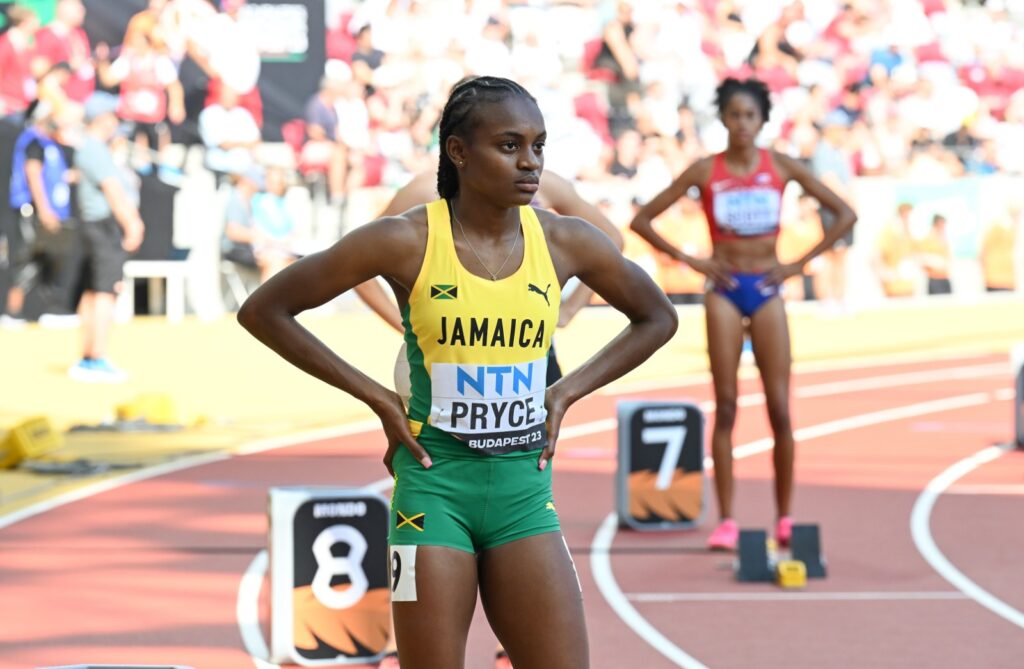 Sada Williams of Barbados won Heat Three in 50.78 seconds but Shaunae Miller-Uibo, the former champion who had only recently returned from maternity leave, finished seventh in a season-best 52.65 seconds and was eliminated.
Cuban Roxana Gomez was second in Heat Four in 50.86 seconds, while Guyana's Aliyah Abrams finished fifth in Heat Five in 51.44 seconds.
Heat Six was won by Marileidy Paulino of the Dominican Republic in 49.90 seconds.
Men's 400m – Bailey, Watson & Barnes (Jamaica 🇯🇲) James (Grenada 🇬🇩) Gardiner & Russell (Bahamas 🇧🇸) Richards (Trinidad 🇹🇹) & Jones (Barbados 🇧🇧)
In the men's 400m heats, Sean Bailey, Antonio Watson and Zandrion Barnes of Jamaica all advanced.
Bailey finished third in Heat Four in 44.98 seconds, the event going to Grenada's Kirani James in 44.91 seconds.
Watson won Heat Five in 44.77 seconds while Barnes was third in Heat Six in 45.05 seconds.
The Bahamas's Steven Gardiner won Heat One in 44.65 seconds, with Michael Joseph of ST Lucia fifth in 45.04 to advance as well.
Gardiner's teammate Alonzo Russell finished sixth in Heat Two in 46.95 seconds and was eliminated, while Jereem Richards of Trinidad and Tobago was third in Heat Three in 45.15 seconds, with Barbados' Jonathan Jones seventh in 46.03 seconds.
Men & Women's | Discus Throw – Hall & Beckford (Jamaica 🇯🇲), Thomas (Bahamas 🇧🇸) & Zayas (Cuba 🇨🇺)
In the women's discus throw qualification Group B, Jamaica's Samantha Hall finished in 12th place with 58.43m, while her teammate Romaine Beckford was eliminated in the men's high jump heats after clearing 2.22m in Group A for 11th place, well short of the qualifying mark.  Donald Thomas of The Bahamas was ninth with 2.25m and was eliminated as well, but Cuba's Luis Zayas advanced from Group B with 2.28m after finishing in joint fifth place.
World Athletics Championships on CNW
Three Jamaicans advance after the morning session at World Champs… But 4×400 Mixed Relay Team Misses Out on Place in Final
World Athletic Championship 2023 Full Schedule & Broadcasting Details For US/Florida Time
Live Updates — World Athletic Championships Results & Records For Caribbean Co