Bikers knock down young boy, drive off
May 8, 2023  -The Daily Herald News -DUTCH QUARTER–A number of residents of Dutch Quarter were infuriated after two young men on a motorbike knocked down a young boy on the Dutch Quarter main road on Friday afternoon and continued driving.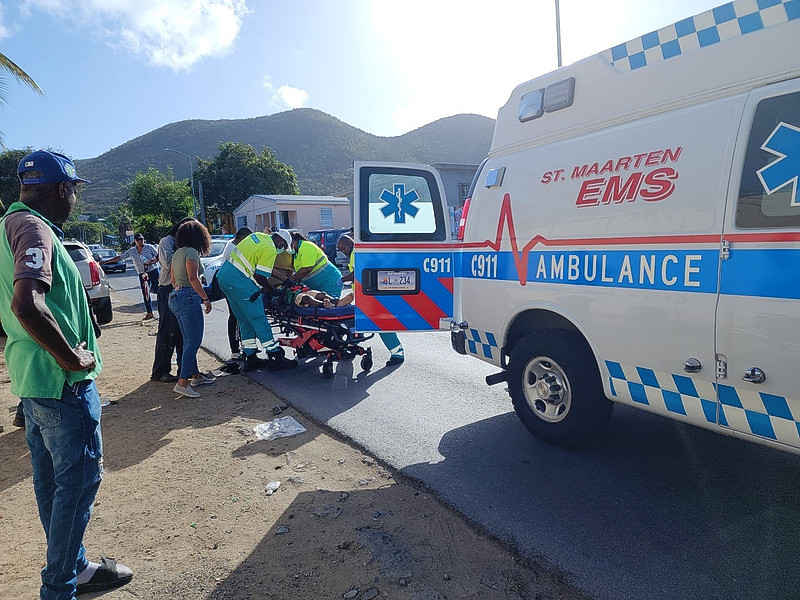 The boy being placed in the Ambulance.
It is believed that one of the persons on the bike exited the bike a short way from the scene.
The injured boy was on foot when the bike that was headed from Mount Willem Hill towards the roundabout knocked down the little boy, who was dragged a bit before flipping several times and landing on the side of the road.
Persons who witnessed the accident rushed to the boy's aid. He was sheltered from the sweltering heat with pieces of cardboard boxes and an umbrella until the ambulance arrived. Residents were overheard commenting on the accident, with some expressing frustration with the bikers and the fact that they did not remain on the scene.
The injured child's mother arrived on the scene soon after and was inconsolable to see that her child had been in an accident. The ambulance arrived shortly after and transported the child to St. Maarten Medical Center (SMMC) for medical attention.