Ben Roberts-Smith case: Will Australia see a war crimes reckoning?
June 2, 2023  –On Thursday, a judge calmly delivered an extraordinary ruling that will go down in Australian history.
The country's most-decorated living soldier, Ben Roberts-Smith, had lost a defamation case against three newspapers who reported claims that he had murdered unarmed prisoners and civilians while serving in Afghanistan.
The newspapers' allegations that Mr Roberts-Smith was actually a war criminal, a liar and a bully were "substantially true", the judge said in his civil case ruling.
The case is the first time an Australian court has assessed accusations of war crimes by Australian forces – ahead of what many predict will be a wider reckoning in the years to come.
'Disastrous miscalculation'
Justice Anthony Besanko's finding that four of six murder allegations – all denied by Mr Roberts-Smith – were in fact true shredded the Victoria Cross recipient's reputation.
The former soldier's decision to launch the defamation case has been called a "disastrous miscalculation" and an "expensive own goal", and it could have far-reaching consequences for him.
With the civil case dismissed, attention has turned to whether Mr Roberts-Smith will now face criminal charges.
That's unclear, legal experts say, because civil trials require a far lower burden of proof – the newspapers only had to show that the allegations were more likely to be true than not.
Top Australian soldier loses war crimes defamation case
How Ben Roberts-Smith's defamation case rocked Australia
Dr Jelena Gligorijevic, a senior lecturer in law at the Australian National University (ANU), says prosecutors will now have to decide whether there is sufficient evidence to prove the murders "beyond reasonable doubt".
"That's very, very different from proving on a balance of probabilities," she tells the BBC.
"This defamation judgement is not at all conclusive on whether they will prosecute, and then whether they will be successful."
There are already calls for Mr Roberts-Smith to be stripped of his military honours, and for glowing tributes dedicated to him in the Australian War Memorial (AWM) – which include portraits, his uniform and medals – to be removed.
On Friday, the AWM said it was now "considering carefully the additional content and context to be included" in displays which reference the former Special Air Service Regiment (SAS) corporal.
Others, however, have said that Mr Roberts-Smith is innocent until proven guilty in a criminal court, arguing no action should be taken until that point.
Mr Roberts-Smith's lawyer has said they will comb the full defamation case judgement, leaving the door open for an appeal.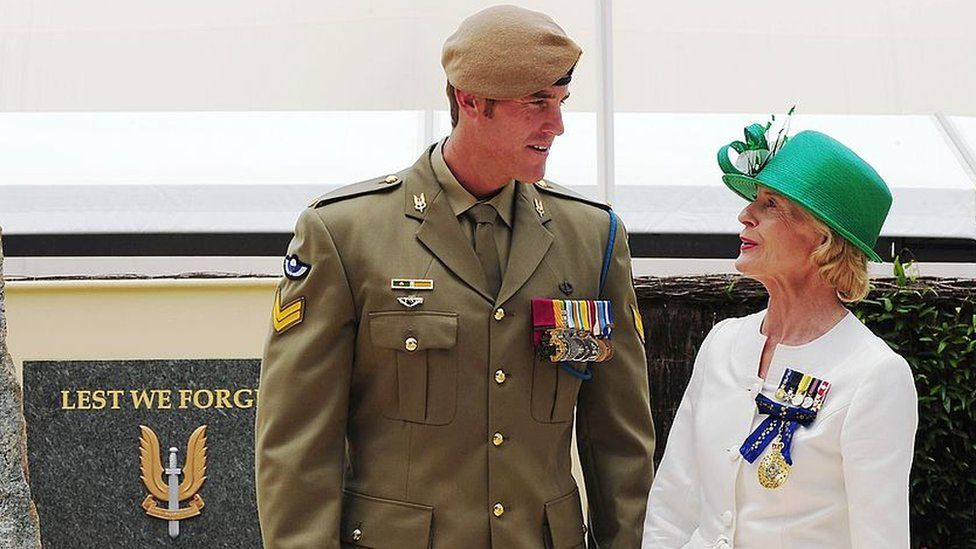 But the civil trial is already rumoured to have cost around A$25m (£13.2m; $16.3m). Traditionally, the losing party of any civil suit pays the legal costs of each side.
And Mr Roberts-Smith is newly unemployed. On Friday, his employer – Seven West Media – said that it had accepted his offer to resign from a high-ranking role.
Dozens of investigations under way
The trial has also unearthed more tough questions for Australia's army, which has long been considered by the public to have a distinguished legacy.
"People express great pride in the way in which Australia has fought – this is what's known as the Anzac legend," says Peter Stanley, the former principal historian at the AWM.
That legend is famously traced to a doomed offensive carried out by Australian troops at Gallipoli, Turkey, in World War One. It embodies a spirit of "egalitarianism and mutual support" that Australians still turn to in times of hardship and conflict, according to the AWM.
Each year, Anzac Day brings millions of Australians together at dawn ceremonies to remember those who served, and in particular, those who did not make it home.
Once feted as a paragon of the Anzac legend, Ben Roberts-Smith has now become the face of accusations that Australian soldiers committed war crimes.
In 2020, a landmark investigation known as the Brereton Report found "credible evidence" that elite soldiers unlawfully killed 39 people in Afghanistan.
It kept most details a secret but said that the allegations included what was "possibly the most disgraceful episode in Australia's military history" – a redacted event which occurred in 2012.
The four-year-long inquiry found a "warrior culture" within Australia's special forces, and recommended that 19 current or former soldiers should be investigated over alleged killings of prisoners and civilians from 2009-13.
Earlier this year former SAS soldier Oliver Schulz became the first person to be charged with the war crime of murder.
Australian elite troops 'killed Afghan civilians'
Australia ex-SAS soldier charged over alleged war crime
In the wake of the report, Australia's government set up an Office of the Special Investigator (OSI), which confirmed last week that "40 matters" are currently under joint investigation with the police.