As Americans debate the merits of British Chinese food on TikTok, UK chefs tell a nuanced story of an ever-evolving cuisine that's rooted in adaptability and ingenuity.
May 18, 2023  -British Chinese food, and more specifically Chinese takeaway food, has recently become a focal point on TikTok among Americans with #britishchinesefood amassing 36.9 million views, spurring a flurry of controversy and debate.
One TikToker, American Asian Soogia, expressed confusion over the meals that British people were sharing on the social media platform, as they little resembled the Chinese cuisine (including American Chinese dishes) she's familiar with. The conversation quickly descended into a general smearing of British Chinese takeaway food, with another TikToker asking, "Are the British eating out of a dumpster?"
What seems to be getting these Americans in a tizzy are the meals consisting almost entirely of fried food with the inclusion of chips and curry sauce, two traditionally non-Chinese food staples in the UK. But what's missing from the debate (aside from the fact that American Chinese food is itself an immigrant cuisine adapted to suit local tastes) is the nuance of British Chinese cuisine and its history, effectively side-lining the ingenuity of immigrant Chinese cooks who have adapted their dishes to meet a British palate. And although menu items – like curry sauce or chicken balls or sweet and sour chicken – might appear similar from one shop to the next, each takeaway shop has its own recipes that reflect the tastes of its local neighbourhood.
This begs the question, what is British Chinese food?
It's impossible to understand Chinese food – as well as many food cultures – in Britain without the context of colonialism. Hong Kong and the New Territories were the last colonial outpost of the British Empire (from 1841 to 1997) and became part of an established trading route, meaning many European shipping companies would hire Southern Chinese men as sailors who then travelled and migrated to the UK. Although citizenship or access to full rights weren't granted to these sailors (or future generations of Chinese migrants), many of them, who were often poor and in search of better lives, set up home in Britain. As a means of survival, to feed the growing Chinese communities and the sailors passing through, they started casual noodle shops; this reached a peak between World War One and Two.
By the mid-1900s, due to changes in UK immigration laws that allowed for greater migration to fulfil a post-war need for labour, there was a Chinese "restaurant boom". Between 1957 and 1964, the number of food establishments doubled, with many catering to non-Chinese palates.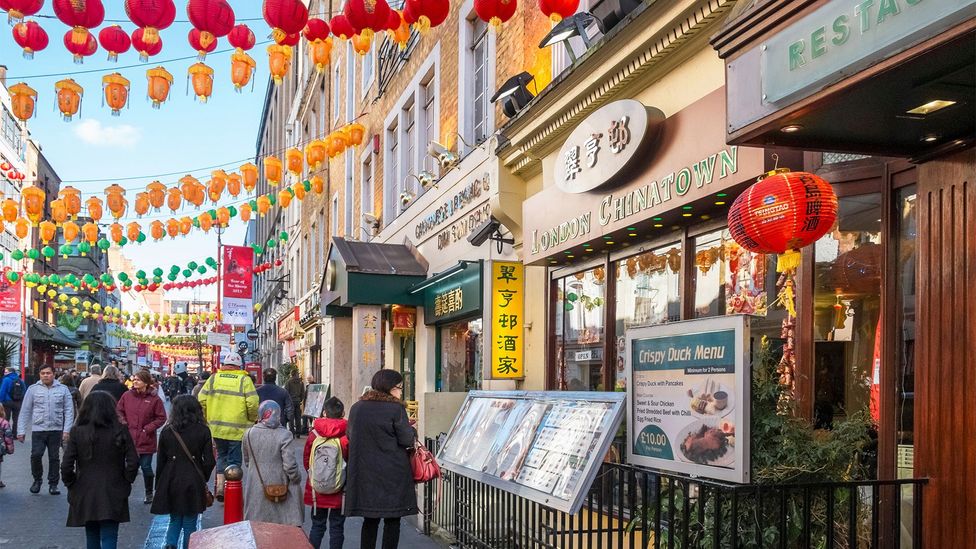 In the 1960s, London's West End Chinatown was born on Gerrard Street (Credit: Digital-Fotofusion Gallery/Alamy)
In his 1975 book, Emigration and the Chinese Lineage, James L Watson, Professor of Chinese Society (emeritus) at Harvard University, wrote: "In 1965, five Chinese restaurants opened in rapid succession in an obscure street in London's West End", and thus London's (new) Chinatown (previously in Limehouse, in East London) was born on Gerrard Street. Watson noted that these new restaurants and takeaways were categorised by the community as those for Chinese customers and those for Westerners.
According to the British Library, even in the 1950s, Chinese restaurants adapted to this new clientele with "buttered bread, pies and chips alongside Chinese dishes".
"[It's] food that is influenced from one culture to the other, whichever way round you see it – from British to Chinese or Chinese to British."
For Jeremy Pang, cookbook author and founder of London-based School of Wok cookery school, British Chinese food is a result of a culture exchange. "[It's] food that is influenced from one culture to the other, whichever way round you see it – from British to Chinese or Chinese to British," he said. "There are so many different dishes and recipes out there that have had influence from each other."
For many British-born Chinese, who grew up with both traditional Chinese food and the new adapted dishes, there's a time and place to enjoy it all.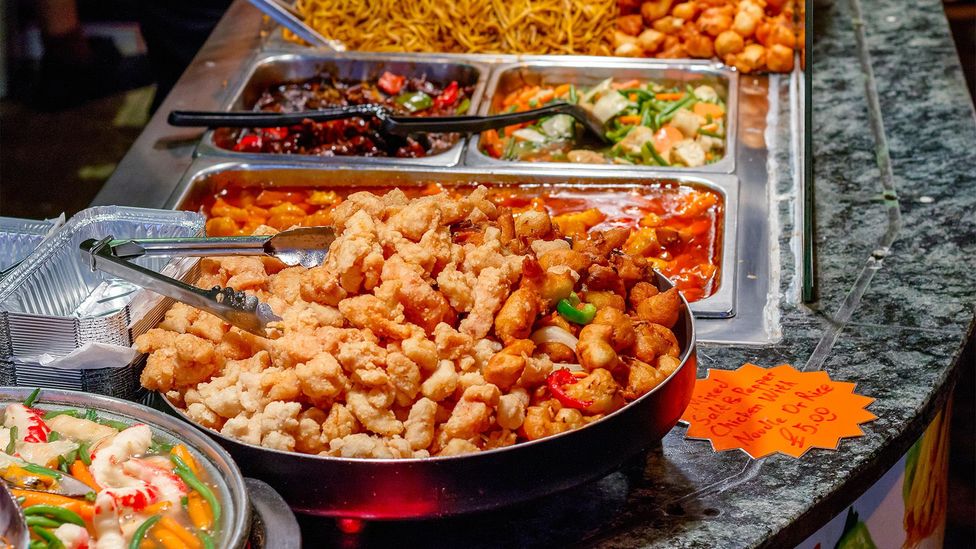 Many people in the UK see Chinese dishes as comfort foods (Credit: I-Wei Huang/Alamy)
Anna Chan, founder of Asian Leadership Collective, grew up as a self-proclaimed "British Chinese takeaway kid" and believes that the Chinese takeaway meal is quintessential to the definition of British Chinese food: "I remember the food from behind the counter. It's food that is adaptable, agile to the tastes and trends of the local palate." She says she craves crinkle cut chips and her dad's curry sauce, and will always ask for egg noodles with beansprouts, king prawns and onions – the curry sauce to be poured on top. However, the food Chan ate at home was different to what was served in the shop, which was more traditional Cantonese and Hakka food.
John Li, founder of Dumpling Shack group in London, spent his teenage years working at his parents' Chinese restaurant in Caterham. "At 17:30, we would have a family dinner of Cantonese and Hakka home cooking – very 'wholesome cooking'," he said. But he revered the fusion dishes his parents were cooking for customers.
"There is a reason why this [British] Chinese food is still one of the most popular foods in the UK. The flavour profile is what people look for in comfort food," he said.
Li still craves Chinese takeaway food, and his partner Yee, who is also a Chinese takeaway kid, says her "four combo order" is shredded chilli beef, Singapore fried noodles, one spring roll and sweet and sour chicken – all classic Chinese takeaway dishes.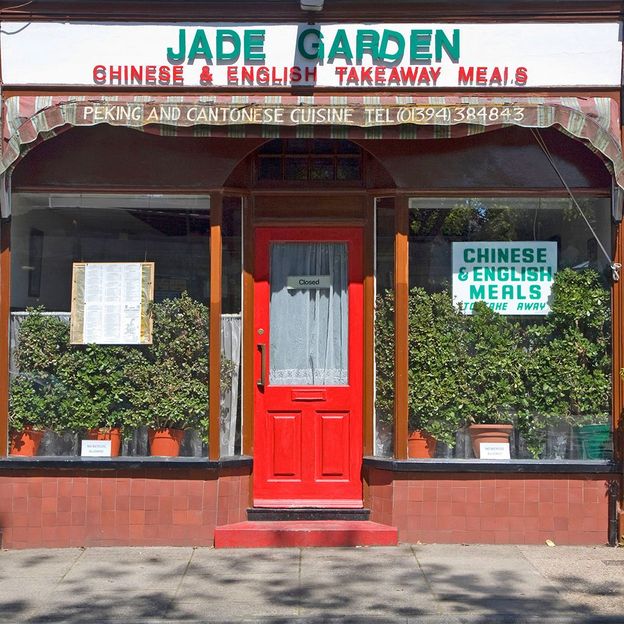 Historically, many Chinese restaurants and takeaways in the UK would cater to non-Chinese palates (Credit: geogphotos/Alamy)
The Chinese takeaway shops have also always been a special place for local communities of non-Chinese Brits, of all backgrounds. In Takeaway: stories from a childhood behind the counter, Angela Hui tells her story of how the rural Wales takeaway shop she grew up in served as a gathering hub for locals. These takeaway shops were integral to communities, and many people have very fond memories of the place and the food.
For the majority of British people, Chinese food from their local takeaway comes with a sense of nostalgia. But with this nostalgia comes the danger of "museum-ifying" it, explained Jenny Lau, a writer who founded the platform Celestial Peach that investigates East and South East Asian identity and community, primarily through food. By this, she means that without fully appreciating the evolution of the food and how each generation tweaks recipes, it can be seen as static, like an artefact within British culture. It can also limit our understanding of what it means to be Chinese in Britain, relegating the identity of Chinese people to the foods of takeaways.
For example, Maria Lo, who runs a supper club in the coastal region of Hastings called Dumpling Den, remembers as a child being asked by a fellow kid if she ate Bang Bang Chicken every day. "I had no idea what she was talking about," Lo said. Lo sees her work now as establishing a wider sense of Chinese-ness in her community, so that her son is understood and can find connections to his heritage in multiple ways and with many reference points.
It is this idea of diversity in Chinese culture and heritage that makes British Chinese food especially exciting now.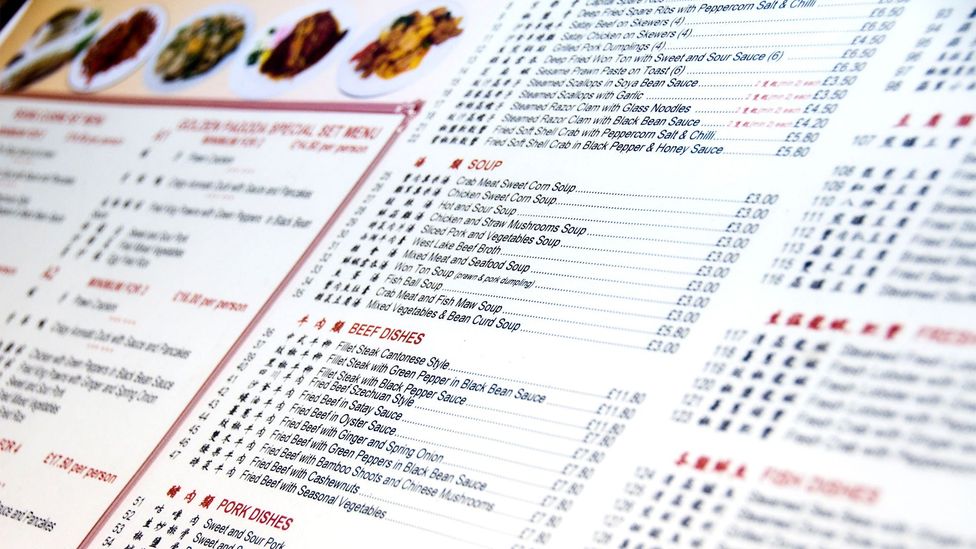 Immigrant Chinese cooks have adapted their dishes to meet a British palate (Credit: Delphotos/Alamy)
The vastness of what British Chinese food is, and can be, in the UK is rapidly expanding. Jason Li, an ex-restaurant manager who currently runs a London-based Shanghainese supper club called Dreams of Shanghai, arrived in the UK in 1993 and has seen an evolution in the type of Chinese cuisine on offer over the past few decades. "It used to be 99% Cantonese food, and then 10 years ago, we saw a rise in Sichuan food," he said. "Now, there are a lot different cuisines, catering to new Chinese migrants such as students." Additionally, a wide range of people come to his supper club, often with some connection to China and wide knowledge of the cuisine.
Furthermore, new British Chinese cooks are developing their own style, incorporating their own identities and other influences. Although of Hakka and Cantonese heritage, John Li takes a lot of inspiration from Sichuan flavours (John and Yee's new restaurant is called Sichuan Fry and specialises in fried chicken burgers). "We take inspiration from the food we love, which is what Chinese takeaways did," said John Li. "On the menu of Chinese takeaways, you'll see nods to all different regions of China and Asia."
Lo's Dumpling Den has been hosting pop ups in a natural wine shop, Collected Fictions in St Leonards-on-Sea, a seaside town in the Borough of Hastings that she feels is taking the lead of previous generations, combining her Cantonese heritage with her British location. "What I am doing now is British Chinese food. I'm influenced by my upbring in a Cantonese household in North London; I lived in Barcelona, Soho in London, and now Hastings; I use locally grown and sourced ingredients," she said. Lo also says she wants to bring her food to people's comfort zones, like to a wine bar, so they can be open to try new things.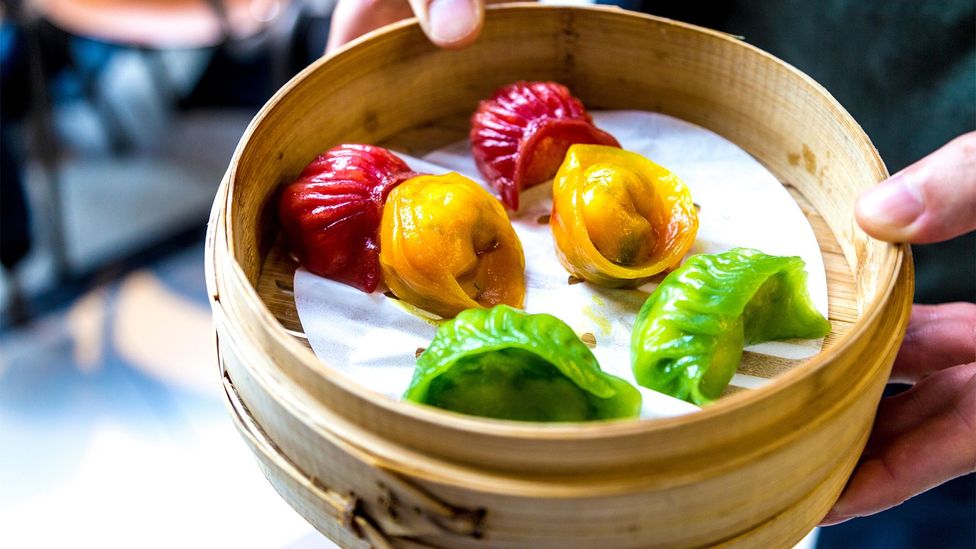 The vastness of what British Chinese food is, and can be, in the UK is rapidly expanding (Credit: Nathaniel Noir/Alamy)
Looking forward, Lau wants to see much more regional Chinese food being showcased, including from places outside of China, such as from Indo-Chinese, Mauritius Chinese and Thai Chinese restaurants and cooks. And she suggests we should look at British Chinese food as another regional Chinese cuisine.
The adaptation of Chinese food to the place that Chinese communities are situated seems to be an age-old tradition, a creative thread through the food culture. As Pang says, "Adaptability is at the core of our Chinese culture." He is amazed at the variety there is now available, from Michelin-starred A. Wong in London to what he refers to as "specialist hand-pulled and knife-cut noodle shops hidden behind bright orange sweet & sour chicken ball & fried rice buffets at places like Lanzhou Noodle Bar in Leicester Square [33 Cranbourn Street]", where he is "immediately teleported into a Hong Kong diner".
What seems to be missing from the social media conversations is the people behind the food. All these dishes that are clearly loved by many are, and always have been, created by people – and are most often about family.
"What I look back and miss the most about growing up around our restaurant is how close it made the family," said Li. "As I get older, I realise how much it meant to be able to work with my parents and siblings in our family business."